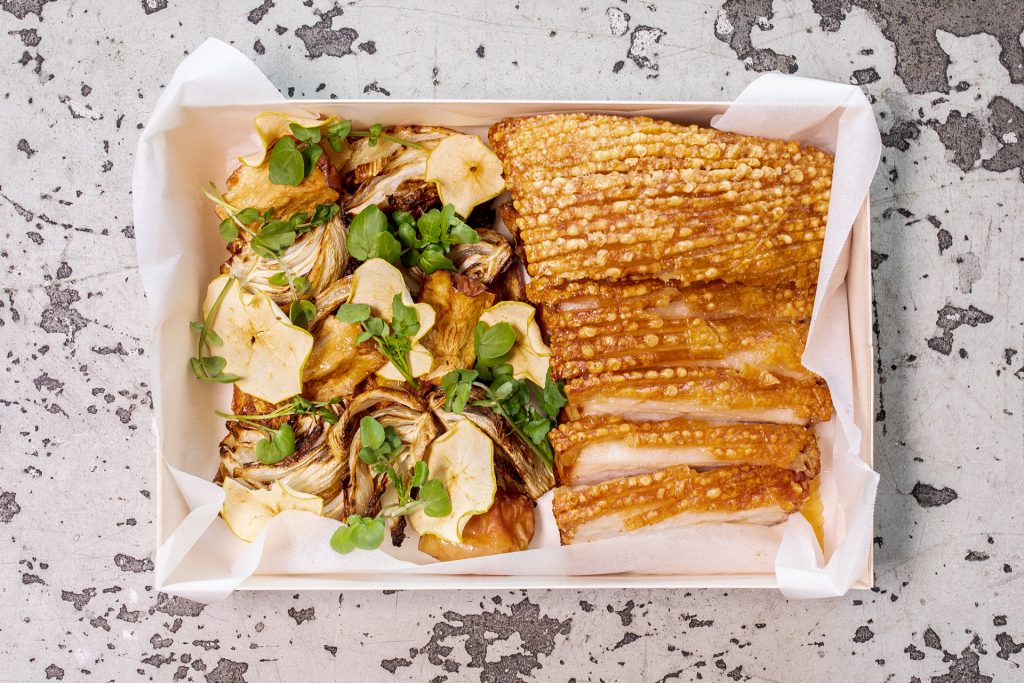 In response to these crazy times we're in, Studio Neon teamed up with Sydney Beer, Wine & Spirits to bring you made. at home; a nourishing paired menu with a series of Australian wines.
Think slow-cooked lamb shoulder with roast veggies, or crispy pork belly with roasted fennel, carrot and house-baked apple sauce for your family.
Or if you're fancying an at-home picnic or date night (because really, who wouldn't) they've got you covered with their picnic and date night ranges. All with the option of matching wines and bubbles.
If you're stuck in isolation, may as well do it right.
FOOD MENU & DRINKS CAN BE ORDERED HERE
Details
To ensure they can nourish as many of you as possible, they've set up an order-ahead system and are offering a 15% discount for all orders placed on or before
the 9th April 2020.
Use code on check out: NOURISHME to claim your 15% off the total bill.
Offer is valid from 19th March and ends 9th April 2020.
Deliveries open between 19th March – 30th June 2020.
Delivery
They deliver to areas in Sydney NSW within a maximum of 10 km of their Commercial Kitchen. A flat rate is charged for each delivery based on a kilometre radius of Studio Neon Headquarters. If you are unsure if you fall within the km radius, enter in your postcode on check out and it will tell you.
Delivery Days
Tuesday & Friday – 2PM – 8PM*
$12.00 within 5 km from Studio Neon HQ
$15.00 within 5-10 km from Studio Neon HQ
*Delivery times within the allocated time frame will be subject to our run schedule on the day
Meals are also available for FREE collection at Studio Neon HQ – 140 – 142 McEvoy Street, Alexandria on Tuesdays & Fridays between 10 AM & 2 PM.
"We hope our made. at home menu drop off offerings provide some relief to those who wish to enjoy a nourishing meal during these testing times.
We're here to help you and the community in any way possible and to our highest standards. If you are craving a particular dish you want to share, please get in touch via Hello@studioneon.com.au or call us on 0413 923 449." – Studio Neon Team
Terms & Conditions available here.
Sydney Wine Beer Spirits Legal
When placing an order with Sydney Wine Beer Spirits you confirm that you are over the age of 18 years and that all details relating to your order are true and correct. It is a legal requirement that persons placing the order is over the age of 18 years and that the person receiving the delivery is over the age of 18 years. You will be asked to provide a copy of your proof of age card or drivers licence in order to finalise your purchase with Sydney Wine Beer Spirits and Studio Neon HQ Pty Ltd. You will confirm that any gifts you purchase via Sydney Wine Beer Spirits and Studio Neon HQ Pty Ltd will be received by persons over the age of 18 years. WARNING: Under the Liquor Control Reform ACT 1998 it is an offence to supply alcohol to a person under the age of 18 years (Penalty Exceeds $6,000) For a person under the age of 18 years to purchase or receive liquor (Penalty exceeds $500)
Liquor Licence: LIQP700354887 ABN:81 633 285 739