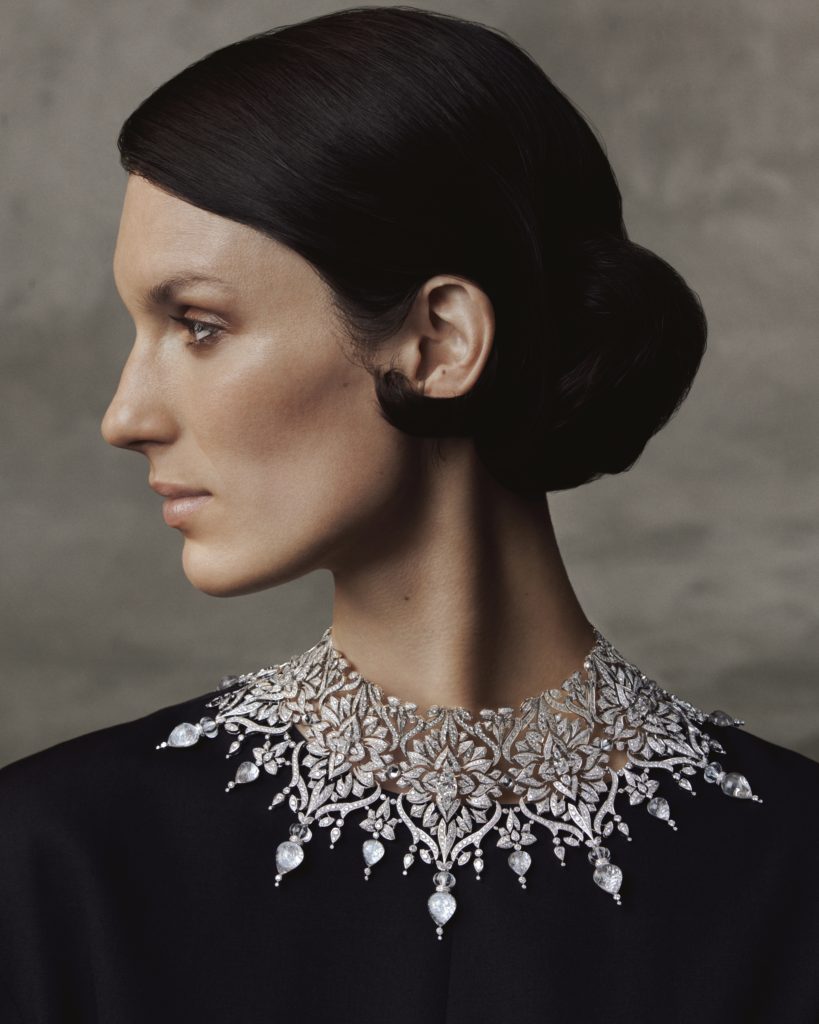 In 1928, escorted by no fewer than 40 servants, the Maharajah of Patiala pushed open the doors to Boucheron in Place Vendôme and commissioned the largest ever special order in the history of the square. Now, in 2022, Creative Director Claire Choisne pays homage to these treasures with the "New Maharajahs" High Jewellery collection, writing a new page in Boucheron's History of Style.
As with each History of Style collection launched by Boucheron in January, Choisne transposed designs from the Maison's archives into the 21st century, inspired this time by the 149 designs crafted for the Mahajara. The creative studio has highlighted design elements that symbolize ancestral India, incorporated traditional techniques, while colours have faded into a monochrome metamorphosis; all for women and men keen to express their personality and their own style through striking Boucheron creations.
"This commission by the Maharajah of Patiala seemed like a fairytale, it is the stuff of dreams", says Claire Choisne. "In our archives, we have kept the 149 original designs from which I got my inspiration for this collection. I wanted to transpose these designs into the 21st century, and to reinvent them for today's Maharanis and Maharajahs. For these women and these men who want to express their personality and their own style".
For these New Maharajahs, the creative studio has highlighted designs referring to elements which symbolize ancestral India, such as the lotus flower, turban ornaments or wedding bracelets, but also for traditional techniques such as glyptics, which is the art of engraving stones. To give life to her creative and contemporary vision, Claire Choisne has made the radical choice of purity through white and transparency, effects of scale that she has naturally transposed both on men and on women.
Highlight would be The New Maharajahs necklace as an art piece. Nine Colombian emeralds, for a total of 40 carats, compose the central motif, which can also be worn as a brooch. Once transformed, the necklace becomes a collar, lined with baguette-cut emeralds, fitting every movement of the body. In order to lighten up this necklace without altering its beauty, Boucheron has replaced the green gems placed at its ends in 1928 by diamonds. These diamonds are covered by rock crystal, which amplifies their brightness and emphasizes their flow.
In this History of Style collection, ceremonial parures have become jewels reflecting one's singularity. Colours have faded into a monochrome metamorphosis. Pared down from their original polychrome, from opulence to delicateness, these New Maharajas are writing Boucheron's new Histoire de Style.