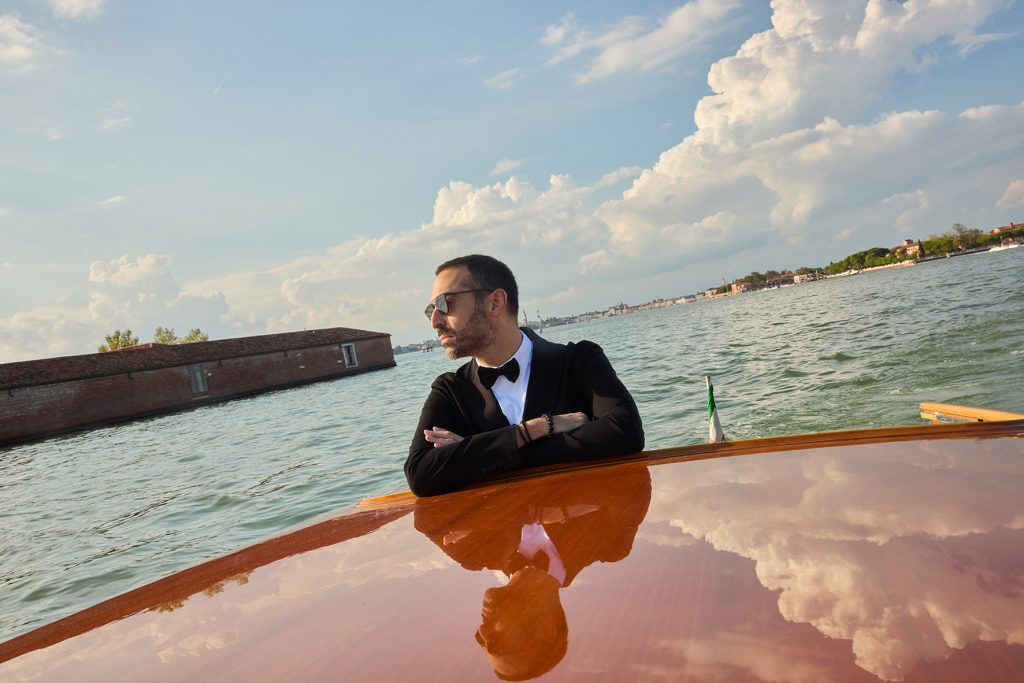 Mohammed Al Turki is an internationally renowned producer from Saudi Arabia who has successfully bridged the entertainment gap between 'East and West' and carved a career that spans over 10 years in both Hollywood and the Arab world.
His credits include 'Arbitrage' starring Richard Gere, '99 Homes' starring Andrew Garfield, and most recently 'Crisis' starring Academy Award® Gary Oldman which en- joyed its premiere in Saudi Arabia. Mohammed's lifelong passion for film, coupled with academic achievements in media studies during his education in London has driven his determination to break into the U.S. film industry.
Mohammed is also extremely ded- icated to supporting a number of international charities including UNICEF and amfAR as well as those started and managed by his father Sheikh Abdulaziz Al Turki, in his home country of Saudi Arabia. Ab- dulaziz Al Turki is known to many as a public Saudi figure of appre- ciation, recognized for his charita- ble works as Founder & President of the Saudi Cancer Foundation, Chairman of the Saudi Charitable Foundation for Promoting Organ Donation and The Saudi Annual Charity run to name a few.
Mohammed joined the Red Sea International Film Festival Foundation in 2020 as Chairman of the Committee to support the development of the flourishing film industry in the country.
In May, 2022 he was appointed to Chief Executive Officer to spearhead the growth of the festival and build on the success of the inaugural edition and drive the strategic and cultural mandate to establish the festivals position as a crucial springboard for emerging Saudi, Arab and African talent and an important world-class Festival on the international circuit.
Tell us more about what prompted you to pursue a career in the film industry?
From a young age I've always loved film, I started a mini video rental service located in my school parking lot, I watched a lot of films spurred on by the fact that both my parents are film fanatics. When I decided to pursue a career in film, I had the full support of my family. I am where I am because of their un- conditional support.
You are often described as a bridge between Hollywood and the Arab world, what differences do you see between those two industries?
I have been described as the Hollywood Saudi producer and this is a role I've taken seriously to make every effort in bridging gaps and connecting cultures. The Saudi Film industry continues to flourish and strives to become the Middle East's film production hub, and like in any growing production sector around the world, initially you need to import some expertise and Hollywood know-how. But the goal is to infuse that knowledge into the local industry. The country is home to a large pool of talent, and we are investing in our young population in Saudi Arabia. There is a really thriving creative, film, fashion and art scene here, with young local talent across industries and disciplines producing unique and insightful work. Hollywood is considered to be the oldest film industry, as a new industry we can learn a lot from Hollywood and we have concentrated on building international cultural and industry collaborations to ensure our filmmakers get as much access to knowledge as possible, mentoring from leading creatives and the opportunity to showcase their work and pitch projects to global organizations.
And what common grounds do you observe between those two worlds?
Our common ground is that film is universal, it has the power to bring people together, to inspire, educate and entertain. Through film we have a window into new cultures, which helps us understand the lives of others and offer new perspectives. We have to get to the point where we understand each other a bit more, and art is a great way of doing that. Cinema today plays a significant role.
As a Saudi citizen, what challenges or bias did you have to face when working abroad?
There is currently a lot of buzz and intrigue about Saudi Arabia's cultural shift and exciting transition with extraordinary plans for 2030. I'm so happy that the country is opening its doors to the world to come and explore, which will help with misconceptions about Saudi and the region. The Festival is a great opportunity to showcase the country and offer a better understanding of the region, it provides a 'collective moment' for people to come together and experience the warmth of our people, the culture, heritage, and hospitality.
You have started as a film producer; how would you describe the Saudi Arabian movie industry?
The Saudi Film industry continues to flourish and strives to become the Middle East's film production hub with huge internal investment. The country's cinema industry is now the fastest growing in the Middle East and provides a lucrative economic opportunity for international businesses. Omdia forecasts that by 2025, eight years after it had no box office at all, Saudi Arabia will be the tenth largest in the world. It's interesting that the Middle East Box Office is recovering faster than other global regions largely due to the boom here which stands as the only country on the planet where since the pandemic box office returns have doubled.
In 2021, the box office revenue in the Kingdom hit a high of $238 mil- lion. The Saudi Film Commission also recently announced the 40% cash rebate program to attract international and regional filmmakers to shoot here. The Kingdom is accelerating at an incredible pace, there is a wealth of untapped talent, a new generation full of energy, creativity, and optimism, and the country is quickly securing its position as a hub for cultural events, arts, fashion with plans to become a world-class centre for film production.
Can you share with us one of your milestones as a film producer?
As a film producer bringing Hollywood home in 2012 when Richard Gere and I were present at the opening of our film Arbitrage at the Abu Dhabi Film Festival was an in- credible moment. In March, 2021 I had my first film premiere in Saudi, which was a huge milestone follow- ing the reopening of cinemas after so long. And of course, the launch of the Red Sea International Film Festival last December, this was a landmark moment.
You are also a philanthropist for several charities, where do that come from and what are the causes closest to your heart?
Giving back to others is something we are taught in our culture. My father, Abdulaziz Al Turki is known for his charitable efforts and I've learned from watching him and being genuinely inspired daily which has encouraged me to follow in his footsteps and continue supporting those in need.
What is one piece of advice that you receive and live by? Who gave it to you?
My father has always encouraged me to never give up, lightning could strike at any moment, life is precious so give everything your best effort and live life to the full.
You have worked on dozens of films, what genre of movies do your personally enjoy?
No specific genre!
When seeking out films, my motive is to shed light on issues that people in the world are going through today. In 2012 I worked on a movie called Arbitrage starring Richard Gere. That movie was in the aftermath of the financial crisis. After that I worked on 99 Homes, this was at the aftermath of the housing crisis in Florida. Then I worked on another movie with Richard Gere called Time out of Mind which also sheds light on the homeless community. Most recently the crisis which is the after math of the opioid crisis and how the FDA is approving all those addictive sedatives. So, for me, I love working on films that don't just entertain but also have a message. I want the viewers to go home and think about what they've watched.
To your opinion who are the next big talent regionally?
The country has a huge pool of talent, both in front of and behind the camera. It's been wonderful to see so many Arab films doing so well this year at some of the worlds most prestigious film festivals. There is an increased appetite for local content so many of the streamers and production companies are heading to the region to shoot authentic content. We have created a unique opportunity to showcase the work of young Saudi filmmakers at the RSIFF and we're incredibly proud to have created a platform that allows us to showcase these remarkable talents to the world.
In 2022, you have been appointed as CEO of the Red Sea Film Festival, how did that come about?
I was appointed Chairman of the Committee in 2019 which was just a taste of what was next to come. I'm thrilled to be the CEO of the Red Sea Film Foundation and excited for everyone to see what we have geared up to for our second edition.

What are you hoping to achieve as the newly appointed CEO?
Our aim is to establish the Festival's position as a crucial springboard for emerging Saudi, Arab and African talent and an important world- class Festival on the international circuit.
This is an exciting, transformative time where creativity plays a crucial role, with a thriving film and art scene and an extraordinary amount of young talent breaking new boundaries and producing content worthy of attention.
We want to be at the forefront of navigating the cultural landscape, contributing to the global entertainment industry, and serving as a beacon for a new generation of creatives.
What was your favorite memory from the inaugural edition of the Red Sea Festival?
The Festival provided a 'collective moment' for people to come together many of whom had not been to Saudi before and were impressed by the warmth of the people, the culture, heritage, and hospitality.
It was wonderful to see Saudi films from an exciting wave of filmmak- ers, features and shorts, being shown alongside the best and most significant films from the world of cinema. Our international guests had the opportunity to discover the diverse aspects of Saudi society, and celebrate the creativity and originality of emerging Saudi film- makers.
After the tremendous success of last year's edition, what is coming up next for the Red Sea Film Festival?
This year, over 10 days we will showcase 131 feature films and shorts from 61 countries in 41 lan- guages from both established and emerging talent. Along with a packed program of red-carpet premieres, outdoor screenings on the beach, concerts, in conversations, masterclasses, Q&As with filmmakers and community events.
How significant is an institution such as the Red Sea Film Festival for the Kingdom's 2030 vision?
The Festival is a key pillar of our country wide cultural programme and a formidable showcase of Saudi talent and cinematic storytelling from around world.
Our first edition had a huge impact both culturally and socially on the local community, filmmakers, the global film industry and our audiences.
The Festival's objectives support the Kingdom's ambitious 2030 plans to become a cinematic pow- erhouse and global film hub.