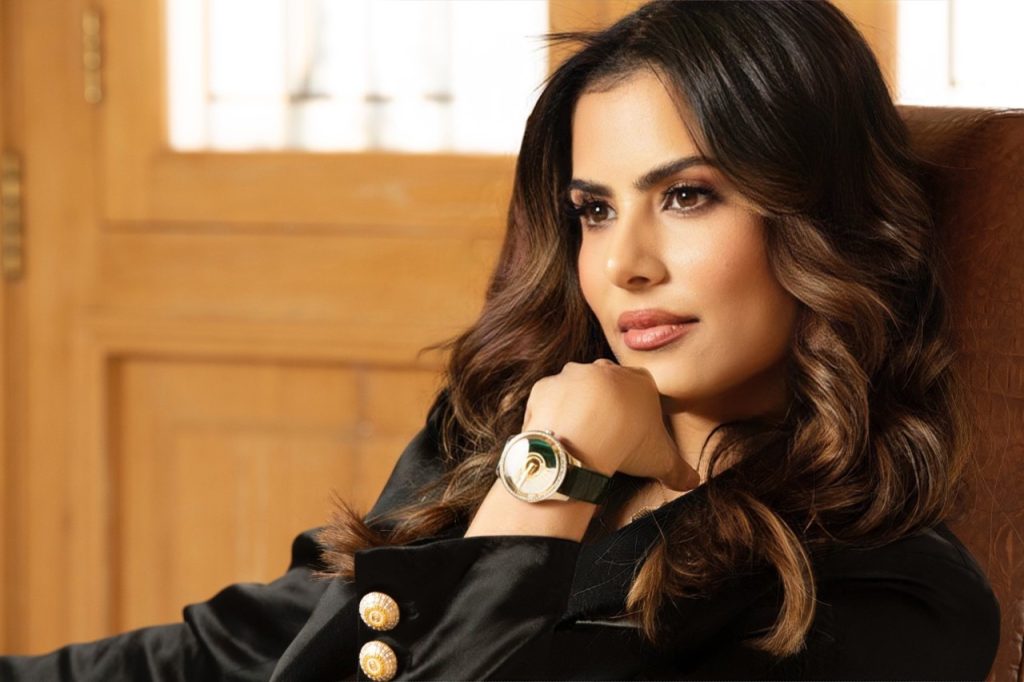 Nada Baeshen is an entrepreneur and influencer, she did her Bachelors in Marketing Communications at Simmons College in Boston, and her Master's degree in Management Communications.  She pursued a career in investment banking for 10 years and worked in Banks and firms such as HSBC, Banque Saudi Alfransi, and The family office, all known firms in the Region. Her love for fashion led her to open her retail store called "The Huntress" which has been in business for more than fourteen years. She has also worked at Harvey Nichols, and Bindawood trading, and managed the buying of the biggest department store in Saudi. She is an entrepreneur, she owns several businesses such as Bimini beauty and Padel Pursuit a new upcoming business promoting sports and art in the region. She is also an influencer and this came as a coincidence as her daily life promotes a strong work ethic.
It empowers women to be independent and that has led to her growth on the social media platform, as she portrays many roles a woman can lead: mother, entrepreneur, and influencer. Most of all what differentiates her is her ability to turn her platform into an informative hub where she has interviews with renowned names and leaders in the fields of beauty, medicine, and mental health, and that has led to her podcast launching soon and her YouTube channel which has started recently all to emphasize and focus on a more exciting fun yet informative content.
---
You are a mother, entrepreneur, and influencer from Saudi Arabia, what is the first reaction you get from people when travelling abroad?
The majority of the time they are shocked I am Saudi as they have no knowledge of our region, they are shocked I am a mom but that gives me the joy of showing them an example of a young mom and female entrepreneur and showing them the reality of a place I call home.
Tell us more about what prompted you to pursue a career in fashion with The Huntress and then sport with Padel Pursuit.
I came from a background in finance after being in the field for 11 years I always enjoyed the art of expressing myself through clothing and fashion in art and I always loved retail that's how it started so I opened the huntress shortly after I started my career in banking and pursued both careers.
Regarding padel pursuit, I have always been into sports growing up and am a good tennis player, so the idea of investing in a space that can create a healthy community and promote Saudi artists was a no-brainer.  We are building a community that is passionate about healthy living and well-being we want to grow the game of paddle and get the younger generation involved and make it accessible to all.
As a Saudi woman, what challenges or biases do you have to face?
I believe challenges are always there for any career-oriented woman, it has nothing to do with where I am from. There is not one specific thing that I consider has been luck or coincidence but in any business we face challenges, I always find a way and remain optimistic in solving the issue and moving forward.
As a businesswoman, how would you describe the Saudi Arabian market as a business owner?
I think it's the best time to invest in Saudi it's an exciting time. So many changes and a lot of optimism but realistically you have to have money to make money so it's also a challenge in investing.
Can you share with us one of the milestones in your career?
My most significant milestone was leaving my banking career and managing a business that became my major income. It took me 11 years to leave my job and be able to sustain an income on my own with my own business I managed that at 26, and to me, that is a big achievement to have the luxury to work for myself.
As an influencer, how solid is the industry in Saudi and more largely in the region?
As an influencer, I am actually very happy with the new regulations implemented by the government. The ministry has managed to really create a great system and they have regulated the field I see this business growing more and more in the next coming years. The question is how do you grow? Being a content creator needs knowledge, a personality, and a brain as you should influence so for you to succeed you need to be excited and heard and you need to deliver and be knowledgeable these days a pretty face is not enough you will not sustain the growth.
What is one piece of advice that you receive and live by? Who gave it to you?
In terms of advice, I always say look ahead don't look around you don't compare yourself to others. Set your goals and don't care about people's opinion of you simply be confident love yourself, thrive, and believe in your capability to move mountains, and for me that has really worked.
What is a typical day in the life of Nada Baeshen?
Where do I start? Laughs. Emails, phone calls, filming, photo shoots, kids at every part of my day, travelling weekly, I don't have a routine I wish I did my life is very surprising and fast pace. Each month and week, it's different but that keeps me excited, and it suits me.
In your opinion, what are the big trends coming up in Saudi Arabia?
Sports are a big trend; the art scene is growing so much that I think the music business is growing fast as well. But so much is happening we are creating trends and not following them
How significant is content creation and more generally cultural creativity for the Kingdom's 2030 vision?
For influencers to stay big and grow they need purpose, a story, and affiliation they need to film and take it to another level. We need to be international we need to be excited, tell a story have a voice share experiences. Part of the vision is portraying women in Saudi so using our platforms we are a voice for the world to know us and see how Saudi women are a big part of the growth of this economy.
What would you like to achieve or venture into that you haven't already?
I ventured into TV this year as a TV presenter. I go with the flow. Let's see where life takes me.
What are your hopes for your country and its next generations?
I don't hope, I know it will surpass everything expected I am very proud of Saudi today and I know we will exceed any plan.
What is coming up next for Nada Baeshen?
Wait and see so many plans but let's see in 2022 I opened two new businesses and this year I also had a tv show let's see what next year brings my way
---
Interview by Narges Raiss for The Luxury Network KSA Magazine