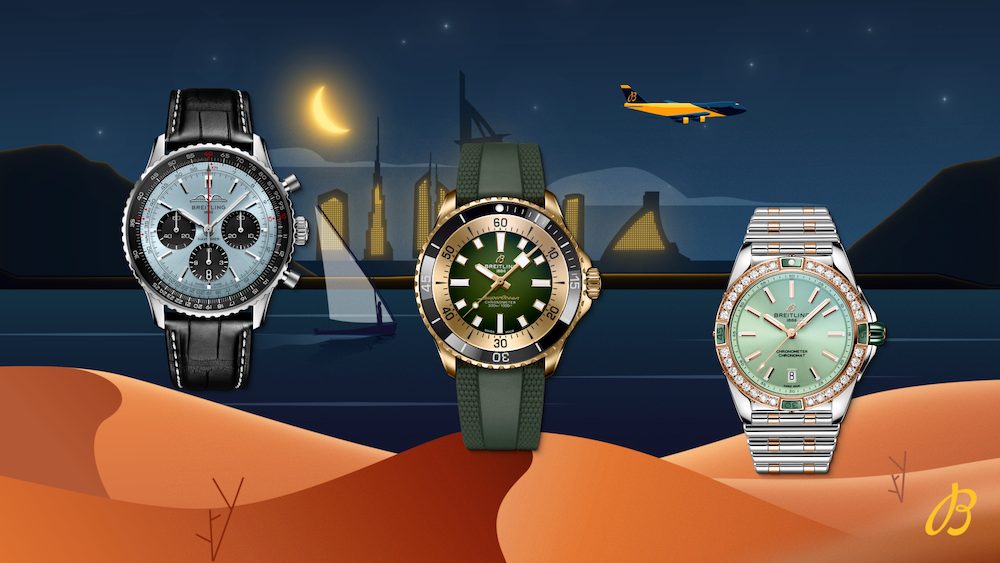 This Ramadan, Breitling is celebrating moments of togetherness because time is precious. To capture the precious moments of the holy month, Breitling invites you to take a journey through its Air, Land, and Sea universes, along with All-Purpose and Professional, and find the perfect timepiece for you and your loved ones.
Breitling's Ramadan campaign kicks off the journey into its universes starting with Land.  A bold and beautiful timepiece, the Super Chronomat Automatic 38 stands out from the rest of the Chronomat family by its ceramic rider tabs and crown, and the rubber rouleaux bracelet only available with this supercharged line. Along with its enhanced presence, the Automatic 38 also has a radiant side. Oversized lab-grown diamonds make the rounds of its 18 K red gold or stainless steel bezel. Its three dial colors (silver, mint green, and ice blue) add just the right amount of aesthetic flair.
Diving into Breitling's Sea universe, the Superocean Automatic 42 perfectly balances the nostalgia of its heritage with a fresh new look. The new Superocean retraces the Slow Motion's celebrated design codes while adding modern features, like a ceramic-inlaid bezel and colorful dials. Broad hands and indexes in luminescent Super-LumiNova® allow for easy readability underwater. The watch is water resistant to 300 m (1000 ft), as well as shock-, sand- and saltwater-resistant. Its scratchproof ceramic-inlaid bezel will never wear or fade.
The journey ends with Breitling's iconic pilot's chronograph in the Air universe. For over 70 years, Breitling's original pilot watch has been beloved by aviators and tastemakers in equal measure. Worn by astronauts in space and the biggest stars on earth, it is Breitling's most iconic timepiece and one of the most recognizable watches of all time.
There have been many iterations of Breitling's icon since its debut in 1952, but the 2022 Navitimer captures its most classic features and is enhanced with modern refinements. A flattened slide rule and a domed crystal create the illusion of a sleeker profile. Alternating polished and brushed metal elements give a lustrous, yet understated finish. Most notably, new colors in shades of blue, green, and copper, define the updated dial options.
Commenting on the Ramadan campaign, Aed Adwan, Managing Director, Breitling Middle East, India, and Africa said: "The holy month of Ramadan is a special time to spend with loved ones and to make every second count. The concept of time being precious has always been deeply rooted in Breitling's history and DNA, and we are thrilled to have a Ramadan campaign that conveys this strong message and allows us to connect deeply with our customers across the region."
Breitling's universes – Air, Land, Sea, All-Purpose, and Professional – pay tribute to the brand's rich heritage in producing exceptional timepieces that historically fit into these segments. As a casual, inclusive, and sustainable brand, Breitling truly offers something for everyone.