Casino Tourbillon is a new take on a Jacob & Co. signature complication. This is a fully functional roulette, integrated inside a 44-mm rose gold timepiece, with a flying tourbillon hidden in the back.
The Casino is on par with the lifestyle offered by the Casino de Monte-Carlo or the high-stakes room at the MGM Grand. This clean, lean, and sleek roulette watch is dressed in rose gold and a black onyx dial, an unadulterated expression of Jacob & Co.'s cheerful nature and ingenuity.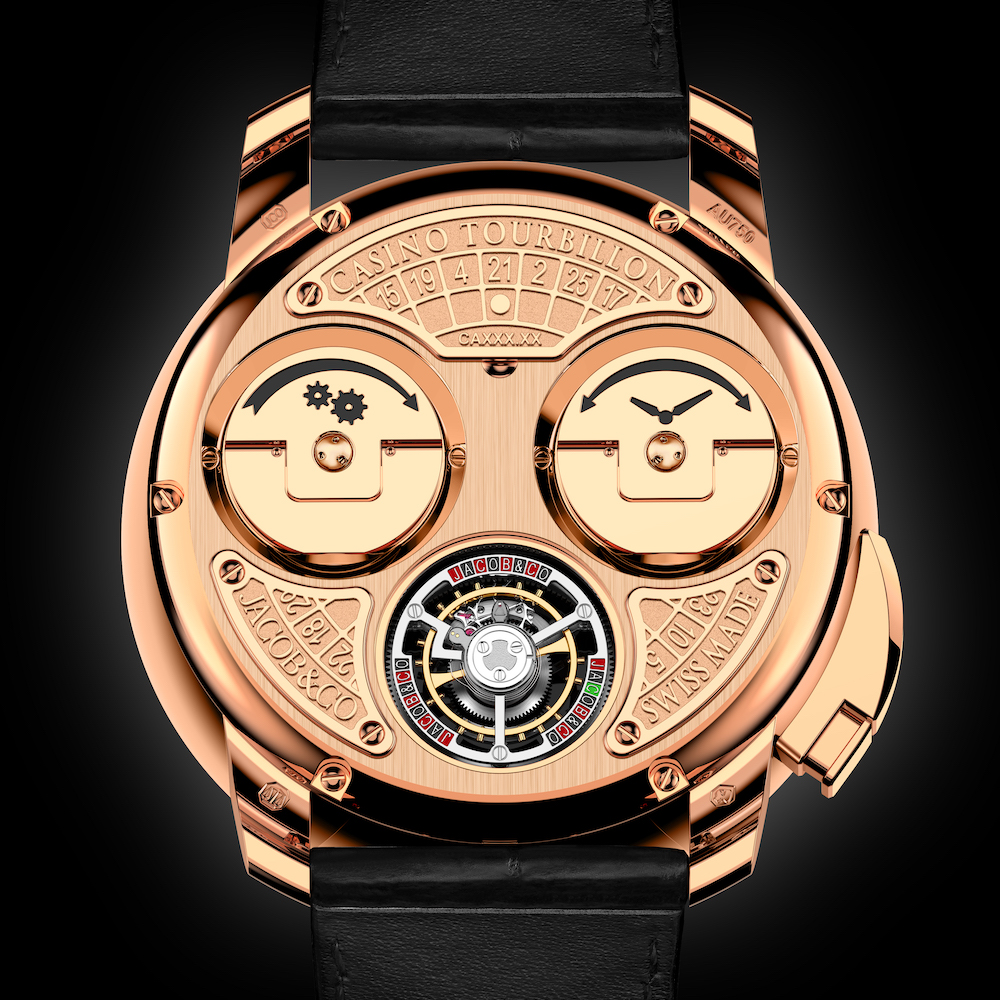 Exclusive Single-Axis Tourbillon Movement
Caliber JCAM51 is an entirely new creation. The Roulette module rests on a last-generation base calibre, with a comfortable and week-end-in-Vegas-proof power reserve of 72 hours.
Casino Tourbillon is the first Jacob & Co. timepiece to feature a tourbillon located on the back side of the case. Its carriage ushers in a new Jacob & Co. design as its arms are engraved with the letters spelling "Jacob & Co." lacquered in the exact same way as the wheel head.
An Elevated Roulette Table
Casino Tourbillon elevates its signature function to the rank of an actual watchmaking complication. Casino Tourbillon is a genuine Roulette game, a fully random game of chance.
The pusher propels the wheel head, complete with 37 pockets, 1 green, 18 red, and 18 black, and a white ceramic ball. Its mechanical construction rests on ball bearings of extremely high quality.
The wheel head spins with high speed and very little friction. Randomization is at its best and makes the Casino Tourbillon a true portable game.