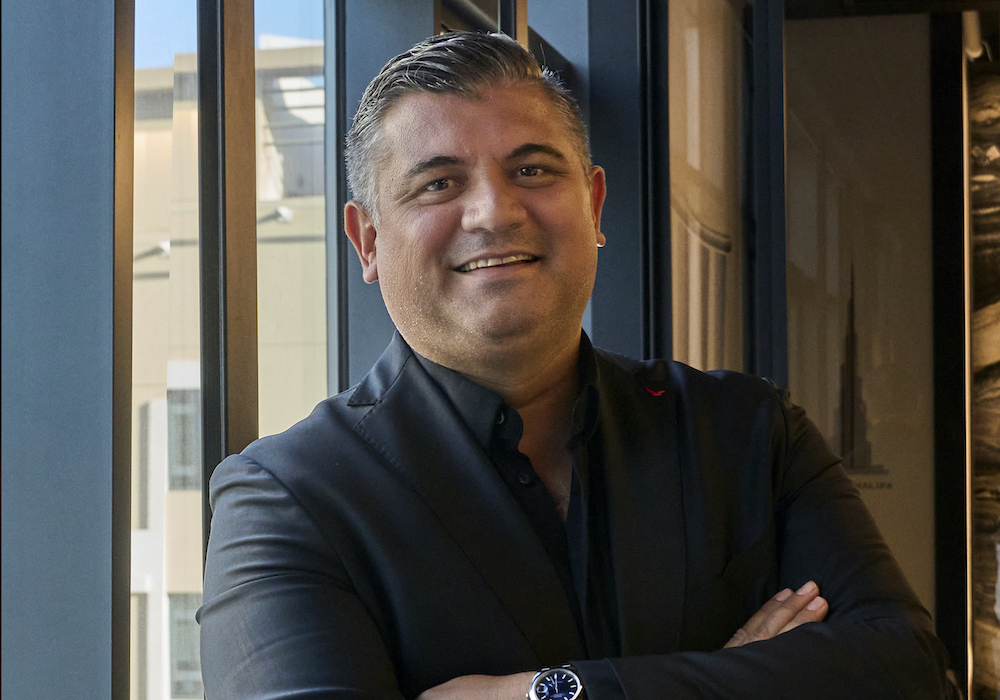 CK Architecture Interiors have recently become a member of The Luxury Network UAE, marking the beginning of an exciting new chapter. In our quest to uncover the enchanting allure of CK Architecture Interiors, we had the privilege of engaging in a fascinating conversation with the visionary mastermind behind its inception, Cem Kapancioglu. This unique conversation aimed to unveil the mesmerizing core of CK Architecture Interiors' services, and shed light on the extraordinary expertise of Cem Kapancioglu in the world of luxury architecture, interior design, and construction.
1.     Can you tell us about the background and vision behind CK Architecture Interiors? How did it all begin?
I founded CK Architecture Interiors in 2012, a boutique vertically integrated Design&Build company with the motto of "One point of responsibility". The company's journey began with a vision to deliver innovative and luxurious design solutions to clients. Drawing from years of experience and a deep understanding of the industry, CK Architecture Interiors was established with the aim of transforming spaces into works of art that harmonize aesthetics, functionality, and individuality.
2.     What sets CK Architecture Interiors apart from other luxury architecture and design firms in the industry?
What sets CK Architecture Interiors apart is our commitment to excellence and a holistic approach to design. We strive to create bespoke experiences for our clients, tailoring every project to their unique tastes, needs, and aspirations. Our meticulous attention to detail, innovative design solutions, and seamless execution differentiate us from other firms, ensuring that our client's visions are brought to life with unparalleled precision and creativity.
3.     Could you share some notable projects that CK Architecture Interiors has completed and the unique design challenges they presented?
CK Architecture Interiors has had the privilege of working on several noteworthy projects. One such example is the Framed Allure, a modern villa that required integrating sustainable elements without compromising on luxury. The project demanded creating a harmonious balance between contemporary design and local cultural influences, thus the idea of "Framed Allure" came to mind to showcase the preservation of green landscape space in the terrace of the building located in the man-made island of Palm Jumeirah. This project presented challenges that we embraced and overcame, showcasing our ability to adapt and deliver exceptional design solutions that surpass expectations.
4.     How do you approach the process of creating a customized design solution for your clients? Can you walk us through the typical steps involved?
At CK Architecture Interiors, we believe in a collaborative and client-centric design process. We begin by gaining a deep understanding of our client's vision, preferences, and functional requirements. This is followed by extensive research and exploration to develop concepts that align with their aspirations. We then create detailed designs, incorporating the finest materials, innovative technology, and sustainable practices. The final step involves meticulous project management and execution to ensure seamless delivery, meeting and exceeding our client's expectations.
5.     CK Architecture Interiors emphasizes a holistic approach to design. Could you explain what that means and how it benefits your clients?
Our holistic approach to design goes beyond aesthetics. We consider every aspect of the project, including functionality, spatial flow, lighting, sustainability, and the emotional connection that space evokes. By taking a comprehensive view, we create spaces that not only look visually stunning but also enhance the overall well-being and experience of the occupants. This approach ensures that our clients receive a design solution that is not only beautiful but also functional, sustainable, and tailored to their specific lifestyles.
6.     In your opinion, what are the key elements that make a luxury living space truly exceptional and unforgettable?
In a luxury living space, attention to detail is crucial. It's about the perfect balance between exquisite craftsmanship, high-quality materials, seamless integration of technology, and personalized touches that reflect the client's personality. Creating a sense of timelessness and ensuring a harmonious flow throughout the space is equally important. Ultimately, a luxury living space becomes truly exceptional and unforgettable when it exceeds expectations, captures the essence of the client's desires, and creates a memorable experience for all who inhabit it.
7.     How does CK Architecture Interiors integrate the latest trends and technologies in their designs while ensuring timeless elegance and sophistication?
At CK Architecture Interiors, we seamlessly integrate the latest trends and technologies to create designs that exude timeless elegance and sophistication. We embrace the use of full home automation systems to enhance the functionality and comfort of living spaces. By integrating smart home technologies, we enable our clients to control various aspects of their homes, including lighting, climate control, security, and entertainment, all at their fingertips. In addition to home automation, we leverage cutting-edge construction technologies to elevate the design and construction process. For instance, we incorporate cantilevered beam structure systems to create dynamic architectural elements that not only provide structural stability but also add a sense of architectural grandeur to the space. Car lifts are implemented to optimize parking spaces, providing convenience and efficient use of available areas. We also explore the use of insulated glass facade systems to maximize energy efficiency and create a harmonious connection between the interior and exterior. These systems provide ample natural light while reducing heat gain and noise transmission, contributing to a sustainable and comfortable living environment.
By combining the latest trends in home automation and construction technologies, we create designs that seamlessly integrate functionality, aesthetics, and sustainability. Our approach ensures that our clients' spaces embody both the sophistication of modern advancements and the timeless elegance that will endure for years to come.
8.     What role does sustainability play in your design philosophy? How do CK Architecture Interiors incorporate environmentally conscious practices into their projects?
Sustainability is a fundamental aspect of our design philosophy at CK Architecture Interiors. We prioritize environmentally conscious practices to minimize the ecological footprint of our projects. We integrate sustainable design elements such as energy-efficient systems, natural lighting, and the use of eco-friendly materials. Additionally, we strive to implement green building certifications such example would be our Izmir Office, CK Design House, with LEED Platinum acquired certification. We also collaborate with suppliers who share our commitment to sustainability. Our goal is to create spaces that not only provide luxurious experiences but also promote long-term environmental stewardship.
9.     Collaboration and client satisfaction are crucial in the architecture and design industry. How do CK Architecture Interiors foster strong relationships with their clients and ensure their needs are met?
At CK Architecture Interiors, we believe in building strong relationships with our clients based on trust, transparency, and effective communication. We prioritize active collaboration, involving our clients in every stage of the design process. We listen attentively to their needs, aspirations, and concerns, ensuring that their vision is at the forefront of our designs. Regular meetings, presentations, and progress updates keep our clients engaged and informed. By providing exceptional customer service, addressing their queries promptly, and delivering high-quality results, we ensure that our client's needs are met and their expectations are exceeded.
10.  CK Architecture Interiors has a global presence and has worked on projects in various countries. How do you navigate cultural differences and incorporate local influences into your designs?
Navigating cultural differences is a key aspect of our design approach at CK Architecture Interiors. We recognize the significance of incorporating local influences to create spaces that resonate with the cultural context and preferences of each project's location. Our team conducts thorough research to gain insights into the local culture, traditions, and architectural styles. We collaborate with local consultants and artisans who possess an in-depth understanding of the region's design language. By blending our international expertise with local influences, we create designs that harmoniously integrate the cultural essence, resulting in spaces that are both timeless and culturally relevant.
11.  Can you discuss the role of innovation in your work? How do CK Architecture Interiors stay ahead of the curve and offer innovative solutions to clients?
Innovation is at the core of our design philosophy at CK Architecture Interiors. We believe in pushing the boundaries of creativity and continuously seeking innovative solutions for our clients. Our team stays ahead of the curve by actively researching the latest trends, technologies, and materials in the industry. We attend design conferences, collaborate with industry experts, and invest in professional development to remain at the forefront of innovation. By combining our expertise with cutting-edge design tools and techniques, we offer our clients unique and forward-thinking solutions that not only meet their needs but also exceed their expectations.
12.  What are the future goals and aspirations for CK Architecture Interiors? Are there any exciting projects or developments on the horizon?
At CK Architecture Interiors, our future goals revolve around continuous growth, innovation, and expanding our global presence. We aim to take on increasingly diverse and challenging projects while maintaining our commitment to delivering exceptional design and build solutions. We are excited about several upcoming projects, including collaborations with renowned international architects and designers, as well as the opportunity to contribute to iconic developments that will shape the architectural landscape of the regions we operate in. Our near future goals include expanding our presence in the Saudi Arabia market. We are excited to announce our upcoming branches in Riyadh and Jeddah, which will allow us to cater to the growing demand for luxury architecture and design services in the Kingdom. Our aspirations extend beyond geographical expansion. We are dedicated to continually pushing the boundaries of design, embracing innovative technologies, and fostering sustainable practices. By remaining at the forefront of the industry, we aim to solidify our position as a leading design and build firm, delivering unparalleled luxury experiences to our clients throughout the Middle East and beyond.
13.  For readers who might be considering working with CK Architecture Interiors, what advice or tips would you give them when it comes to selecting an architect or designer for their project?
When selecting an architect or designer for their project, it is essential for readers to prioritize expertise, experience, and a strong portfolio that aligns with their desired aesthetic and functional goals. It is also important to choose a firm that values collaboration and open communication, ensuring that the client's vision is understood and respected throughout the design and build process. Lastly, seeking testimonials and references from past clients can provide valuable insights into the firm's professionalism, ability to meet deadlines, and overall client satisfaction.
14.  How can readers get in touch with CK Architecture Interiors to learn more about your services and discuss potential projects?
Readers interested in learning more about our services and discussing potential projects can visit our website at ckarchitecture.com. They can explore our portfolio, gain insights into our design philosophy, and find our contact information. Alternatively, they can directly reach out to us via phone and WhatsApp at 0569966996 or email at info@ckarchitecture.com. We welcome inquiries and are eager to discuss how we can bring their design visions to life.
15.  Finally, how do you envision the growth of CK Architecture Interiors in this region, and what is your personal vision and mission as the Founding Director of the company?
I envision CK Architecture Interiors becoming a leading design and build firm in the region, known for our commitment to excellence, innovation, and client satisfaction. As the Founding Director, my personal vision is to continuously push the boundaries of design, create spaces that inspire and transform lives, and make a positive impact on the architectural landscape. I am dedicated to fostering a culture of collaboration, nurturing talented professionals, and building enduring relationships with clients based on trust, integrity, and exceptional results.