Banyan Tree Tamouda Bay invites Middle Eastern tourists to experience luxury and culinary delights, including the new Buddha Bar.
Banyan Tree Tamouda Bay, a hidden gem nestled amidst the rugged Rif Mountains and the golden sands of Morocco's northern coast, extends a warm invitation to Middle Eastern tourists to embark on an extraordinary journey of luxury, relaxation, and cultural immersion. The resort, designed in the architectural style of the region's Andalusian-Moorish heritage, offers a captivating sanctuary for the senses, where romance and the allure of Moroccan charm intertwine.
Conveniently located just an hour's drive from the vibrant city of Tangier, Banyan Tree Tamouda Bay stretches across twenty-five hectares along the picturesque shores of Tamouda Bay. Each villa in this exclusive all-pool resort exudes elegance and intimacy, providing guests with an unparalleled experience of privacy and luxury. The Bliss Pool Villa, designed as an intimate retreat for two, offers a tranquil haven spanning over 203 square meters (2,185 square feet), complete with a private pool. The Serenity Pool Villa, featuring a spacious pool and a private garden, presents the perfect blend of serenity and natural beauty. Meanwhile, the Harmony Pool Villa awaits those seeking harmony and breathtaking views of Tamouda Bay, boasting 233 square meters (2,507 square feet) of luxurious living space.
One of the highlights of Banyan Tree Tamouda Bay's allure is its diverse dining scene, carefully crafted to cater to every occasion, palate, and setting. From elegantly refined restaurants to barefoot dining on the beach, guests can embark on a culinary journey that showcases authentic local flavours, Mediterranean classics, international favourites, and refreshing cocktails. Saffron Restaurant invites guests to immerse themselves in an authentic Thai experience, while Tingitana captures the enchantment of Moroccan and Middle Eastern cuisines against the backdrop of a mesmerizing terrace. Azura Beachfront Restaurant offers a romantic seaside experience for enthusiasts of Mediterranean cuisine, and Volubilis Restaurant provides a chic lounge setting for indulging in refreshing cocktails and delectable Mediterranean tapas.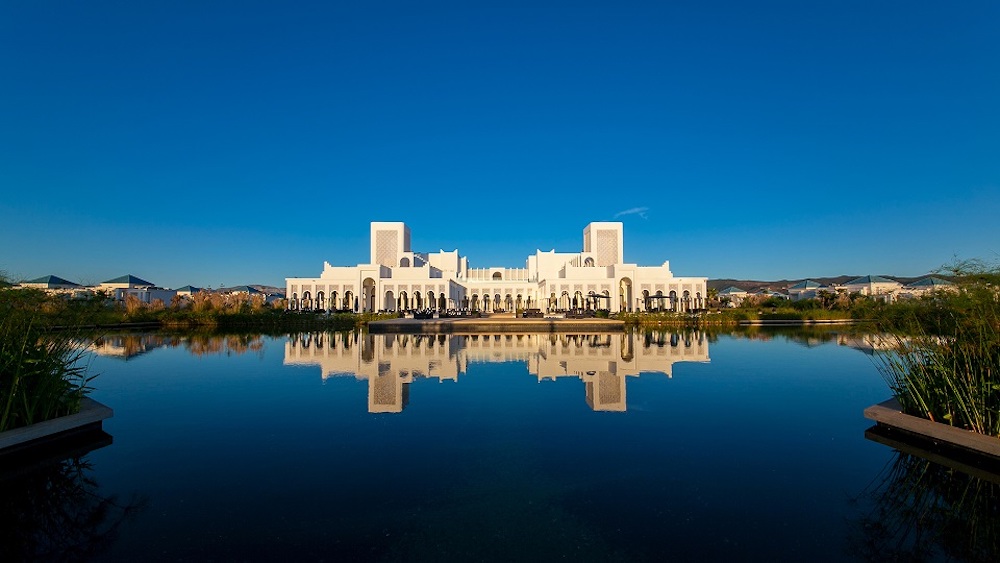 To enhance the overall experience, Banyan Tree Tamouda Bay invites guests to indulge in the sublime sanctuary of its luxury spa. Drawing inspiration from time-honoured spa traditions, this intimate retreat seamlessly merges romance and serenity, creating an ambiance of tranquillity that harmonizes with the natural beauty of the surrounding landscape. The spa's architecture and treatments reflect a deep sense of place, rejuvenating both body and mind.
Beyond the boundaries of the resort, guests can explore a wealth of natural and cultural attractions within close proximity. Whether engaging in thrilling watersports and cruises or immersing themselves in local activities and traditions, there is an abundance of experiences to suit every traveller's taste.
Adding to the allure of Banyan Tree Tamouda Bay's captivating offerings is the highly anticipated arrival of Buddha Bar. This new addition to the resort's dining scene promises to elevate the culinary landscape, providing a captivating fusion of Asian flavours, international cuisine, and an electric ambiance that transports guests into a world of indulgence and musical delight.
Banyan Tree Tamouda Bay warmly invites Middle Eastern tourists to embrace a captivating blend of romance and Moroccan charm. Whether seeking a luxurious escape, a culinary adventure, or an exploration of cultural wonders, the resort promises an unforgettable experience that will captivate the senses and leave a lasting impression.
For reservations and more information about Buddha Bar at Banyan Tree Tamouda Bay, please visit Banyan Tree.