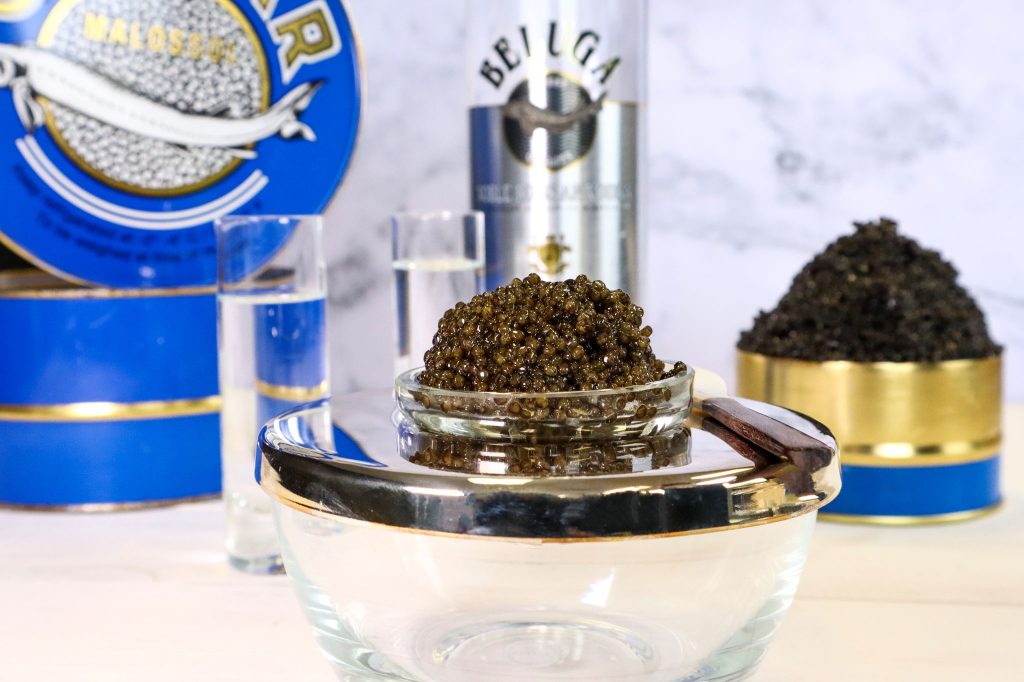 Lisa Downs fell in love with caviar as an air chef working for Ansett International. "I was lucky enough to work in first class where we had caviar service from a trolley," says Downs. "I love the theatre of caviar." Downs would spoon the caviar onto the plates of lucky travellers with traditional accompaniments such as grated egg, crème fraiche and blinis.
Illegal poaching and overfishing of sturgeon, whose eggs are salted and cured to produce caviar, has pushed many species to the brink of extinction. CITES (the Convention on International Trade in Endangered Species) imposed a ban on the harvesting of wild sturgeon in 2008, thus caviar – which hasn't existed in abundance in recent times – became even more difficult to find.
Caviar, while still a scarce commodity, is becoming more readily available now, says Downs. New sturgeon farms have emerged after the 2008 ban, and pre-existing sturgeon farms, such as ARS Italica in northern Italy and Gourmet House in Dubai have increased production to meet demand.
Downs is now the caviar ambassador for Simon Johnson; a role which involves educating consumers, chefs and the food service industry about the precious black pearls. She has developed strong relationships with producers across the world, and recently visited the production facilities of ARS Italicia, learning from "caviar masters" there.
And why is caviar so expensive? Downs says the cost of setting up a farm is very high and it's a long time before any money can be made because many sturgeon species don't start producing eggs until they are between six and nine years old.
Downs notes that a lot of the caviar imported into Australia is pasteurised, meaning it has been heat-treated to kill bacteria and extend the product's shelf-life. While this is an easier product to import and handle, Downs says that pasteurising caviar causes the outer protein of the egg to harden, thus sealing it from further salt penetration and flavour development. Simon Johnson predominantly imports fresh, unpasteurised caviar without any chemical preservatives (in 2016 it imported 1.6 tonnes of caviar). While fresh caviar requires more care to handle and store, Downs says "it's an infinitely better product".
Caviar from Sterling and Calvisius is imported in "Mother tins" weighing 1–1.8 kilos. It is then stored in Simon Johnson's caviar room in the Sydney warehouse at minus two degrees celsius. At any given point, there is around 100 kilos of caviar in this room. From here, Downs is able to carefully monitor the maturation of the caviar, packing it into smaller tins to order (sized anywhere between 30 and 250 grams, depending on customer needs). At present, Simon Johnson is the only company in Australia licensed to re-pack fresh caviar.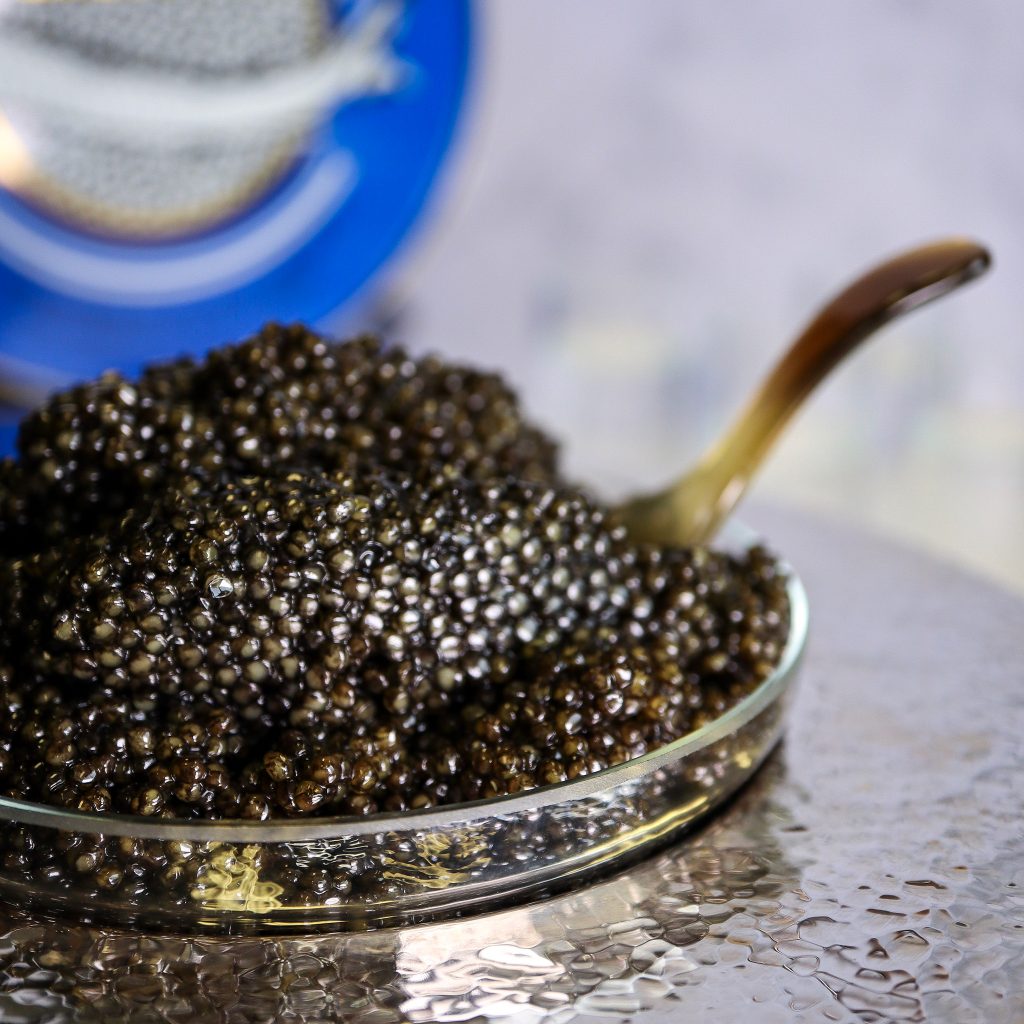 When it comes to eating caviar, Downs recommends people have the first taste from the flat part of their hand, between thumb and forefinger – what she refers to as the "anatomical snuff box". This is because the complex flavours of caviar are best appreciated when it reaches room temperature, just like cheese. "After a couple of minutes, when you can't feel the caviar sitting there, that means it's reached blood temperature and you should eat it," she says.
If you don't want to spend an evening eating caviar off your hand (but why wouldn't you?), Downs says people should pair it with neutral flavour carriers such as Melba toast, homemade blinis, cultured butter or crème fraiche. And whatever you do, don't eat it off a metal spoon as this causes an unpleasant chemical reaction between the metal, the caviar and your saliva. A mother of pearl spoon is ideal, but "even a plastic spoon is better than using metal," she says.
Further to this, Downs says, "The rule of thumb with caviar is once you open a tin, it needs to be consumed within three days, but really, you should think of caviar like drinking a bottle of Dom Perignon: you don't open a bottle, have one glass then put it away for the next day. When you open a bottle of Dom, you drink the whole thing. It's very much the same with caviar. We encourage customers to buy as much as they will eat on the night."
For those who would rather eat caviar prepared by Australia's best chefs, Simon Johnson also supplies top restaurants including Quay, Rockpool and Sepia (in addition to airlines such as Qantas, Qatar Airways and American Airlines). Ben Turner, who is group head chef of Matt Moran Restaurants, put a dish of lobster, French toast, finger lime and Sterling caviar on at Aria when it re-opened in November 2016. The dish was a hit and images of it popped up on the social media feeds of many who dined there.
Turner appreciates that caviar is a "super rich and luxurious product", and because of the expense, trusts Simon Johnson to provide him with "perfect, undisturbed pearls" that have been handled, stored and packed in the right way.
And if a tin of caviar ever ended up in his home fridge? "I'd probably do something really understated with it," says Turner, "like a super white bread sandwich using nice soft bread, cultured butter and caviar." Having previously undertaken a caviar masterclass with Downs, he'd probably have the first taste off his hand, of course.
Caviar can be purchased from Simon Johnson stores. View the full range here. To attend a caviar masterclass or discuss a caviar-themed evening or event, please contact Lisa Downs and the Simon Johnson, customer service team in any of their retail stores.