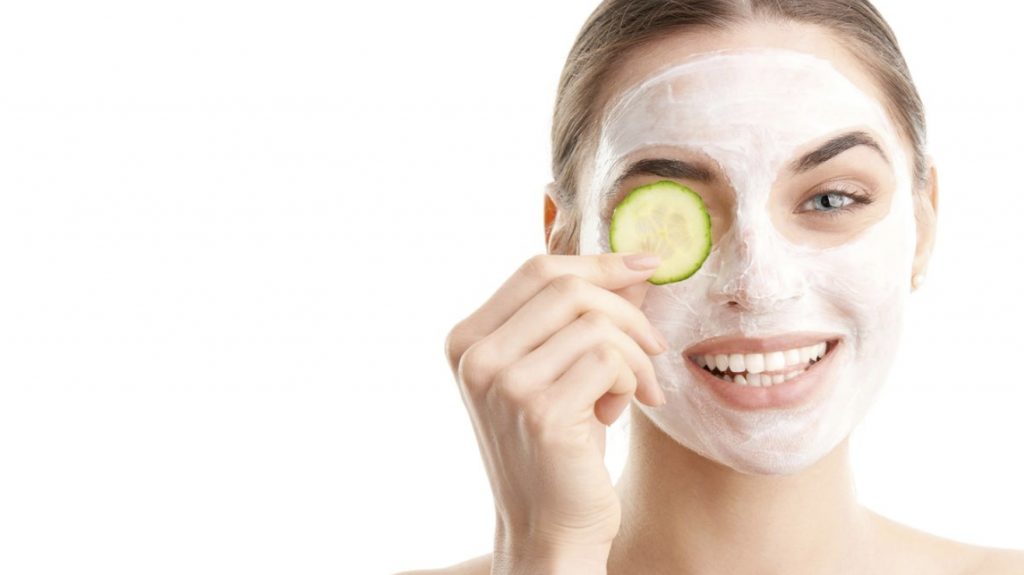 For centuries, women all over the world have used natural ingredients, from blood oranges to tea tree oil, to get healthier hair and smoother skin. Since it's hard to get to the grocery store right now—let around country-hop around the globe to give these treatments a try—here's how you can replicate them at home with some of the best beauty products on the market.
1. Asian Face Purifier
The ritual: Some Asian women make a rice face mask to deep-clean their skin and get rid of shine and oil, according to Jamie Ahn, owner of the Acqua Beauty Bar, in New York City. They soak a cupful of rice in warm water for 30 minutes to get the starch to rise to the surface, then blend the water with rice flour to form a paste. Then, apply the paste to clean skin and leave it on for 10 minutes before rinsing with cool water.
Why it works: "Rice can absorb oil on your face much the same way it absorbs water when you cook it," says Ahn.
Try it at home: Tatcha's The Rice Polish ($65; sephora.com) is a water-activated exfoliant of nourishing Japanese rice enzymes. Once it gets wet, the bran transforms into a creamy, rich foam to gently exfoliate and release the debris. This treatment is also backed with anti-aging green tea and algae to visibly reduce the appearance of fine lines, uneven skin tone, and hyperpigmentation.
2. Italian Skin Glow
The ritual: Italian women use a fragrant mixture of blood oranges and olive oil to get their skin glowing, says Carmen Miraglia, co-owner of Erbe, an Italian day spa in New York City. (Blood oranges are hardy citrus fruits that grow abundantly in the fertile soil surrounding Mount Etna, in Sicily.) To make the salve, they mix two teaspoons of virgin olive oil with the juice and finely grated skin of blood orange. Then, massage the mixture onto the face, neck, and chest, and rinse it off with cool water.
Why it works: Blood oranges contain citric acid, which may work as a natural exfoliant, and vitamin C, an antioxidant that may plump up the skin, says Cherie Ditre, an associate professor of clinical dermatology at the University of Pennsylvania Penn Medicine at Radnor. Olive oil is a rich skin emollient, and it may decrease the irritation that can be caused by the use of fruit acid, Berson explains.
Try it at home: Slather on heavy-duty body butter, like the Pacifica Tuscan Blood Orange Body Butter Tube ($13; pacificabeauty.com), a creamy concoction whipped up from fleshy mandarin and Italian sweet orange (coupled with a blend of emollient oils) to wrap your body in hydration. For your hair, try the Not Your Mother's Sicilian Blood Orange & Black Currant Butter Masque ($9; ulta.com), which uses the same ingredients to quench your strands without weighing them down.
3. Russian Coffee Body Smoother
The ritual: In some Russian spas, women use wet coffee grounds as a body scrub. They massage the grounds onto moist skin to slough off flaky, dry layers and leave the skin softer.
Why it works: "Coffee grounds are a gentle, natural exfoliant," says Downie. "Since they aren't overly abrasive, it's a nice way of removing dry skin on the body." Plus, the caffeine in the coffee can temporarily give the skin a toned appearance and quell minor skin irritations.
Try it at home: If reusing coffee grounds is not your idea of smart recycling, give your body a scrub-down with Frank Body's Original Coffee Scrub ($10; ulta.com) instead. It contains roasted and ground robusta coffee beans and organic cacao extract to buff away dead cells, and cold-pressed almond and macadamia oil to hydrate over your freshly exfoliated skin.
4. Japanese Hair Gloss
The ritual: Ages ago, geishas coated their hair with camellia oil to give it a lustrous shine. Women would place camellia nuts, which come from the flowering tree that grows throughout Japan, in a cloth sack and smash the sack against a hard surface to release the oil, according to Michelle D. Leigh, author of The Japanese Way of Beauty: Natural Beauty & Health Secrets. Then, they would run the oil-soaked bag down their hair.
Why it works: Camellia oil is brimming with protein, says Jeanine Downie, a dermatologist in Montclair, New Jersey. "Protein penetrates the hair follicle, adds body and gloss, and enhances the quality of the hair."
Try it at home: There's no need to employ manual labour; today, camellia oil is commonly found in shampoos, conditioners, and styling products. For shinier strands, work Garnier Ultimate Blends Shiny Hair Oil Treatment ($7; garnierusa.com), which is formulated with a rich blend of argan and camellia oils, into clean, wet hair.
5. Brazilian Body Softener
The ritual: Brazilian women often use the rich oils of locally grown seeds and nuts—including Brazil and buriti nuts—to moisturize their bodies and legs, and to soothe skin irritations from razor burn or waxing, says Jonice Padilha, co-owner of J. Sisters International Spa, in New York City. The nuts are roasted, then crushed, and pressed to draw out the oil. The warm oil is applied directly to the skin or allowed to cool to a balm-like consistency first.
Why it works: "When you wax or shave, you strip moisture away," says Downie. Nut oil-based lotions and creams are ideal because they are loaded with moisturizing agents to hydrate the skin, while omega-3 fatty acids promote healing due to their anti-inflammatory properties. Certain nuts with a high dose of vitamin E have also been shown to keep the blood vessels dilated in order to defend the skin against certain disorders like acne, eczema, and dark spots.
Try it at home: Scrub yourself down with Tree Hut Body Scrub Brazilian Nut ($7; walgreens.com), and follow up with Tree Hut Brazilian Nut Body Butter ($7; bedbathandbeyond.com) to replenish compromised moisture levels.
6. Australian Tea Tree Oil Skin Clearer
The ritual: In Australia, tea tree oil is widely used to treat blemishes, freshen breath, and cleanse the skin. As early as the late 18th century, Aborigines used crushed tea tree leaves to treat skin infections, according to Michael Castleman, author of The New Healing Herbs.
Why it works: Tea tree oil is a natural astringent, so it exfoliates the skin and unplugs clogged pores, says Diane Berson, an assistant professor of dermatology at Weill Medical College of Cornell University. It may also soothe puffiness, and it typically does not irritate most skin types.
Try it at home: Slap on a face mask infused with the stuff, like the Innisfree My Real Squeeze Mask ($2; us.innisfree.com), or dab a dollop of the Desert Essence Tea Tree Oil Skin Ointment ($11; cvs.com) on dry or irritated patches for more targeted treatment.
7. Balinese Foot Soother
The ritual: Balinese women pamper tired feet by soaking them in a traditional foot bath, according to Sophie Benge, author of The Tropical Spa: Asian Secrets of Health, Beauty, and Relaxation. They layer smooth stones on the bottom of a large basin, fill it with warm water, and spike it with a few drops of eucalyptus or jasmine oil. Fragrant tropical flowers are sometimes floated on the surface for an added aromatherapy benefit. Post-soak, they moisturize their feet with coconut oil.
Why it works: "Warm water relieves pain; relaxes muscles, tendons, and joints; and brings blood flow to the area," says Michael J. Brunetti, a podiatrist at Lenox Hill Hospital in New York City. Eucalyptus oil is a topical pain reliever, and lightly stepping on the flat stones massages the feet.
Try it at home: Fill a basin with warm water and add two capfuls of Dr Teal's Pure Epsom Salt Deep Marine Sea Kelp Mineral Soak Purify & Hydrate ($6; ulta.com). After soaking your feet, exfoliate with Arm & Hammer Heels & Feet Moisturizing Scrub ($9; cvs.com), then moisturize with Burt's Bees Coconut Foot Creme ($10; walgreens.com).
Photos: Gentl & Hyers
This article was originally published at Real Simple.