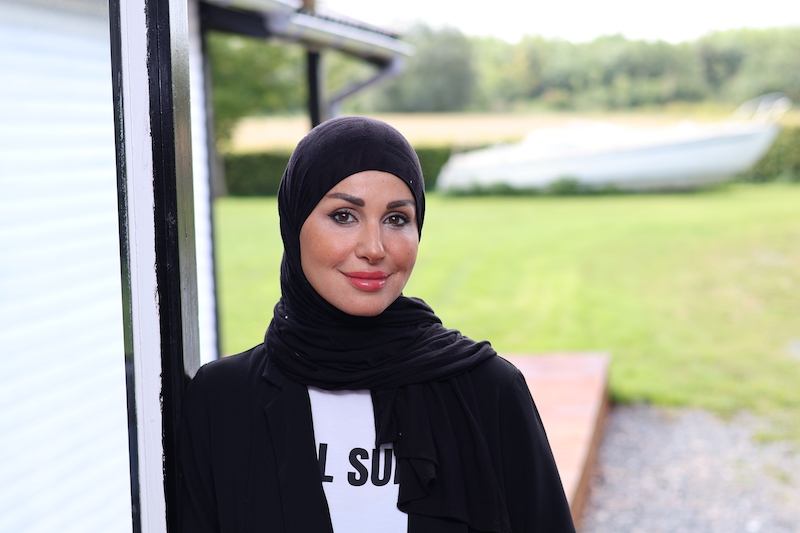 Please introduce yourself to our readers.
I'm a Danish citizen with Arabic roots and I've spent 26 years working in the Beauty Industry. I've studied cosmetology and worked with high-end beauty brands such as CHANEL, Dior, and many more in Copenhagen. During my time in Qatar, I've focused on bringing unique beauty products and creative business ideas to the luxury market. I've learned a lot about the local beauty scene and can predict trends. I want to share my international experience and partnerships to create innovative projects, and recently in e-commerce. The target is to create skincare brands that focus on organic, healthy, and effective results.
Tell us About Bronzage Spa and when it was first established.
I started the Bronzage Spa & Bodyxpress Fitness Studios with a vision. These ideas were the first of their kind in Qatar and were created to fill a gap in the market. People have loved our services and we've gotten great feedback.
My inspiration comes from the mindful beauty and wellness scene in Scandinavia, where I've lived for 27 years. I mix this with global trends to create modern projects. Adding an Arabic touch, I bring cultural richness to our services, making them special for our customers in Qatar. Our trained staff ensures high-quality service and luxury at our Bronzage spa locations.
Bronzage Spa started in January 2015 at Lagoona Mall in Lusail. Our mission is to give clients a luxurious tanning experience that boosts their confidence and wellness. We make sure our clients get the tan they want while keeping their skin healthy. Our vision is to be the top spot for tanning and skin wellness. We want to stand out for our excellent service and innovation. We work to set new standards and help our clients embrace their natural beauty.
What made you bring Bronzage Spa to Qatar?
So, why did I start this business in Qatar? Well, I needed to tan myself! I also noticed there weren't many options for tanning here. The hot climate in Qatar, especially during the 6-month summer, made me think of creating a comfortable indoor tanning solution. My business idea fills a gap and offers a luxurious way for people to get their desired tan.
How many branches do you have In Qatar?
Bronzage Spa has 5 branches in Qatar now, and we plan to open another one soon. You can find us at Lagoona Mall, Mirqab Mall, Mall of Qatar, Torch Hotel, and Al Duhail. Our expansion shows that people like our tanning salons and we're catering to different preferences.
What are the services provided at Bronzage Spa and who is your target audience?
We offer various services at Bronzage Spa. Our main focus is safer tanning with advanced Megasun German solarium machines. These machines give you a glowing tan while caring for your skin's health., thanks to light therapy such as Collagen light and anti-blemish lights.
We also do lash lifting and brow laminations. These treatments enhance your eyes and eyebrows without using extensions. Our goal is to make you look great while promoting natural beauty and self-care.
Can you tell us more about the latest equipment used at Bronzage Spa?
Our latest addition is the P9s by Porsche Design at Lagoona Mall. This machine is a blend of art and technology, giving you a unique tanning experience. It's a must-try!
(You can find more details about our machines on our website)
Share with us the safety measures that you follow for the tanning machines at Bronzage Spa.
Safety is our top priority at Bronzage Spa. We have strict regulations and procedures in place to ensure the well-being of our clients.
Here's an overview of the safety measures we follow for our tanning machines:
Our staff members are extensively trained in operating the tanning machines and ensuring a safe experience for our clients. They are knowledgeable about the different skin types and the appropriate tanning session durations for each type.
Before a client uses our tanning machines, we conduct a thorough skin assessment. This helps us determine the skin type, sensitivity, and any pre-existing conditions. Based on this assessment, we recommend a suitable tanning session duration and intensity to prevent overexposure.
Proper eye protection is crucial during tanning sessions. We provide clients with protective eyewear that shields their eyes from the UV light emitted by the tanning machines. This reduces the risk of eye damage.
Our staff members closely monitor each tanning session. If a client experiences any discomfort or requests to end the session early, our staff is there to assist promptly.
What products do you offer to your clients?
We offer a range of high-quality tanning lotions and products that are specifically designed to enhance the tanning experience while moisturizing and nourishing the skin.
These products are safe and dermatologist-tested.
How do you maintain high standards of hygiene at Bronzage Spa?
We maintain rigorous hygiene standards in our spa locations. Tanning beds are sanitized thoroughly between sessions to ensure a clean environment for each client. We also provide disposable sanitary for the tanning beds to further enhance hygiene.
We educate our clients about the importance of responsible tanning. We provide information about the recommended frequency of tanning sessions and the need to avoid overexposure. Our staff is always available to answer questions and address concerns.
Tell us more about how you maintain the tanning machines.
Our tanning machines undergo regular maintenance to ensure they are functioning optimally and emitting the correct levels of UV light. This helps prevent uneven tanning and reduces the risk of overexposure.
What kind of consultations do you offer to your clients?
We offer consultations to clients who are new to tanning or have specific skin concerns. During these consultations, we gather information about their skin type, medical history, and any medications they may be taking. This allows us to customize the tanning experience to their individual needs.
By following these safety regulations and practices, we aim to provide our clients with a comfortable and safer tanning experience that promotes both their desired glow and their skin's health.
Tell us about the BodyXpress EMS studio.
Certainly! Bodyxpress EMS Studio is a unique fitness concept that was the first of its kind to Open in Sheraton Hotel- Doha in 2016. EMS stands for "Electrical Muscle Stimulation," and our studio combines this technology with guided workouts to provide an efficient and effective fitness experience. Here's more information about Bodyxpress EMS Studio:
What is EMS?
EMS involves the use of electrical impulses to stimulate muscles, causing them to contract and work. This technology has been used in various fields, including physical therapy and sports training, to enhance muscle strength and improve overall fitness.
How Does Bodyxpress EMS Studio Work?
In our Bodyxpress EMS Studio, clients wear a specially designed EMS suit that is equipped with electrodes. These electrodes deliver low-frequency electrical impulses to target specific muscle groups. During a session, a certified trainer guides clients through a series of exercises that are tailored to their fitness goals.
What are the key Benefits?
1. Efficiency.
EMS training provides a full-body workout in a shorter amount of time compared to traditional methods. This makes it a great option for busy individuals who want to maximize their workout sessions.
2. Muscle Activation. 
EMS stimulates deeper muscle fibers that are often challenging to target with conventional exercises,
leading to more comprehensive muscle engagement.
3. Strength and Endurance.
EMS training can help improve muscle strength, endurance, and overall fitness levels.
4. Low Impact.
The low-impact nature of EMS training is gentle on joints, making it suitable for individuals with certain physical limitations.
5. Time-Saving.
A typical EMS session is around 20-30 minutes, making it an ideal option for those with limited time for exercise.
6. Customization.
Trainers can adjust the intensity of the electrical impulses based on the client's fitness level and goals.
7. Recovery.
EMS technology can also be used for recovery and rehabilitation purposes, aiding in muscle recovery and reducing muscle soreness.
Who Can Benefit from Body-Xpress EMS Studio?
Individuals seeking an efficient and effective workout.
People with busy schedules who want to achieve fitness goals in a shorter time.
Those looking to build muscle strength and endurance.
Individuals who want to enhance their overall fitness level.
People who prefer low-impact exercise options.
Athletes and sports enthusiasts aiming to complement their training routine.
Individuals recovering from injuries and seeking a gentle form of exercise.
It's important to consult with a healthcare professional before starting any new fitness program, including EMS training.
At Bodyxpress EMS Studio, we combine innovative technology with expert guidance to offer a fitness experience that aligns with modern lifestyles. Our certified trainers ensure that clients receive safe and effective workouts tailored to their needs and goals.
What are your next business plans?
I'm thrilled to share that our upcoming plans include opening another Bronzage Spa branch in Doha. Additionally, I'm in the process of creating new beauty products and developing a skincare brand, which will be announced soon. Our goal is to continue providing innovative and high-quality services while expanding our offerings to cater to the evolving needs of our valued customers. Stay tuned for more updates and announcements!