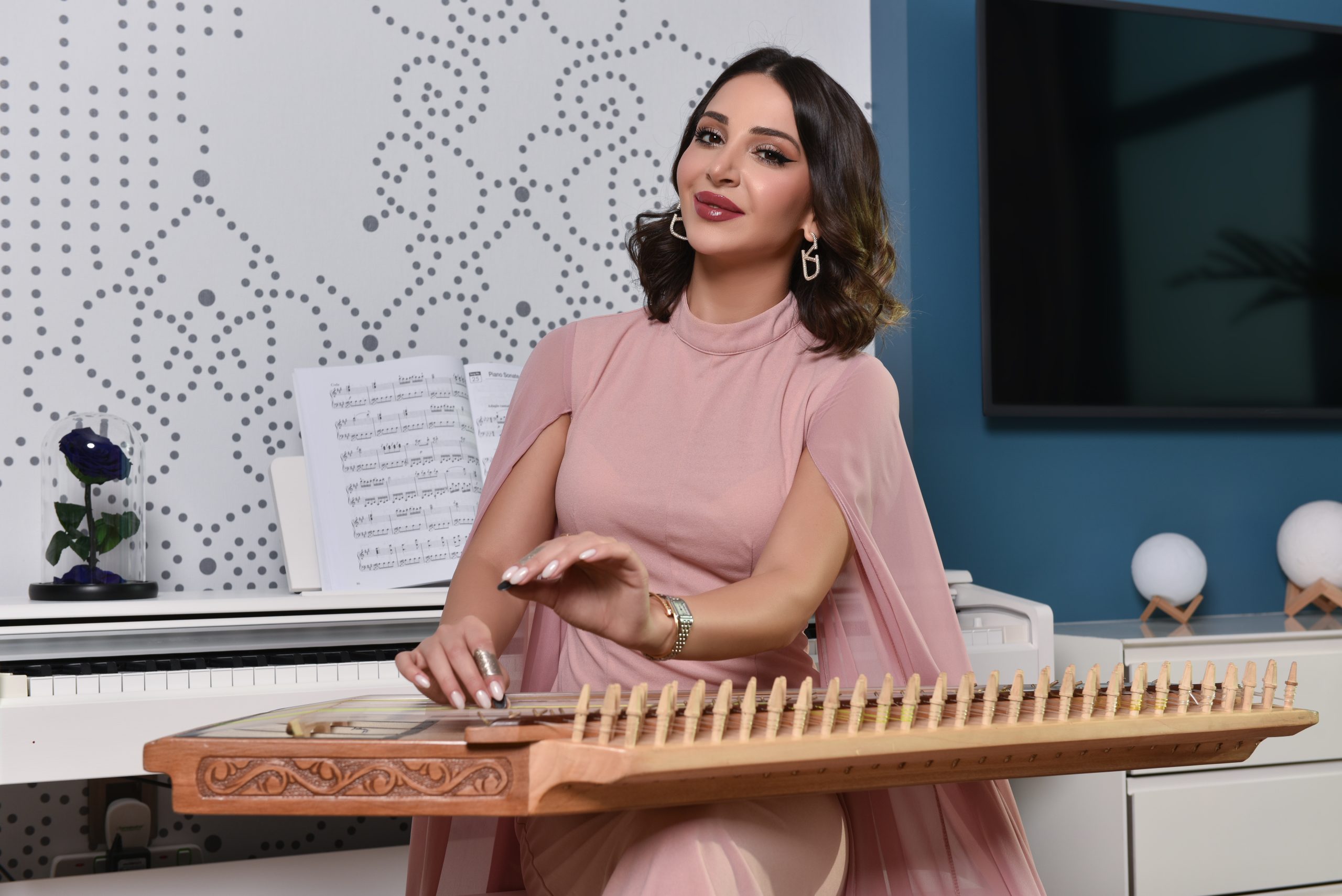 Could you share with our readers how you first discovered the qanun and what made you choose it as your primary instrument?
I was born into musicians family. My father is a professional musician and a music teacher. I was six years old when I took my first steps into the music industry. Deep in my heart I wanted to study the piano, but my family encouraged me to choose the qanun, so I'll be able to play both instruments in the future. And it was a wise decision as now I mastered both instruments.
The qanun has a rich history and is deeply rooted in Middle Eastern music. What aspects of this instrument and its musical tradition resonate with you the most?
The Qanun is an ancient stringed instrument widely played around the Middle East, North Africa, western Asia, and Eastern Europe. Qanun is a very common traditional instrument in Armenia which is my hometown. It is a type of zither, played while seated. Besides plucking its tuned strings, players also manipulate levels that adjust the strings' pitch on the fly. The result is a cascading, mellow sound requiring both skill and personal flair from the player.
The qanun has a distinct and enchanting sound. Can you describe how you go about creating different tones and moods using this instrument?
Musicians play the Qanun by using mediators on the index finger and putting the thumb below the string they want to make a sound from. By mastering the instrument we learn how to use all of our fingers to create more unique sounds, giving the instrument more flexibility which creates different tunes.  As a result, we make our fingers deliver the deep feelings and emotions that artistic souls have within to the listeners.
In addition to traditional Middle Eastern music, the qanun has been incorporated into various contemporary genres. Have you explored any non-traditional styles or experimented with fusion music? If so, how was that experience?
I've studied in 2 musical schools and graduated from the conservatory carrying a bachelors degree in musical art. In music school, I learned how to perform and master the instrument with its full potential while in conservatory I learned how to put the feelings into motions. I studied all the music genres including fusion, eastern, jazz, and classical. I've participated in many international music festivals representing my country and honored to be awarded the Grand Prix. My style of music is very spacious and I'm developing my skills in almost every genre to be able to bring this instrument into international audience.
Mastering any instrument takes time and dedication. What challenges have you encountered on your journey with the qanun, and how have you overcome them?
when you're coming from a professional musician's family the pressure to be the best is on its highest level. To master any instrument takes hard work and dedication. I've been practicing day and night for so many hours to exceed not only my family's but also my teacher's expectations as I was a student of the most well known professor in the region.
Could you share some of your favorite musical pieces or compositions that you love to perform on the qanun? What makes them special to you?
I have three favorite pieces. The first one is a very special composition to me, which is an Armenian melody called Sirelis (My Darling). My Armenian roots and culture had a huge impact on developing my music career. The second favorite piece is an Arabic composition by a legendary Umm Kulthum called Enta Omri. I feel this song reflects the essence of Arabic culture and every time I play it touches my soul and connects me with Eastern spirit. The third favorite piece is Prelude No.1 in C major,  other known as  Ave Maria by Bach. I like to perform it on both the Qanun and the piano.  This piece is a reflection of Baroque era,  grandiose, dramatic, tension, and harmony.  I feel in my past life I was living in 17th century which is why I have this old soul in me that gets emotional every time hearing a classical music.
The qanun is an instrument with a rich cultural heritage. How do you ensure that this tradition is preserved while also allowing room for innovation and personal expression?
There are two ways of performing on the Qanun. The first is the typical traditional and the second is more developed and fusion style. It took courage and determination from me to build a strong base in traditional techniques and methods, after which  I learned and developed new skills in modern styles.
I like to challenge myself by always learning and developing new techniques and making the combination between traditional, classical, and modern music in my way, so I can deliver my music to all categories of audiences. My main goal is to make my music touch every person's heart.
What advice would you give to aspiring qanun players who are looking to embark on a musical journey with this instrument? Any particular tips or insights?
My biggest advice is to be passionate about what you're doing, love your instrument, work hard, and never give up. I've faced so many difficulties in my life, but one thing kept me motivated and not giving up was believing in my dreams and goals. You have to Become the best version of yourself every day and compare yourself only with who you were in the past.
Have your individuality and never try to become someone else. Each person has something different and unique, you just have to find that sparkle in you and make it shine.
Lastly, could you tell us about any upcoming projects or performances that you're excited about? What can your fans and our readers look forward to in the near future?
There are many collaborations coming soon with different artists and big bands.
I'm working on some new projects of taking the Qanun into higher stages and making it more worldwide.