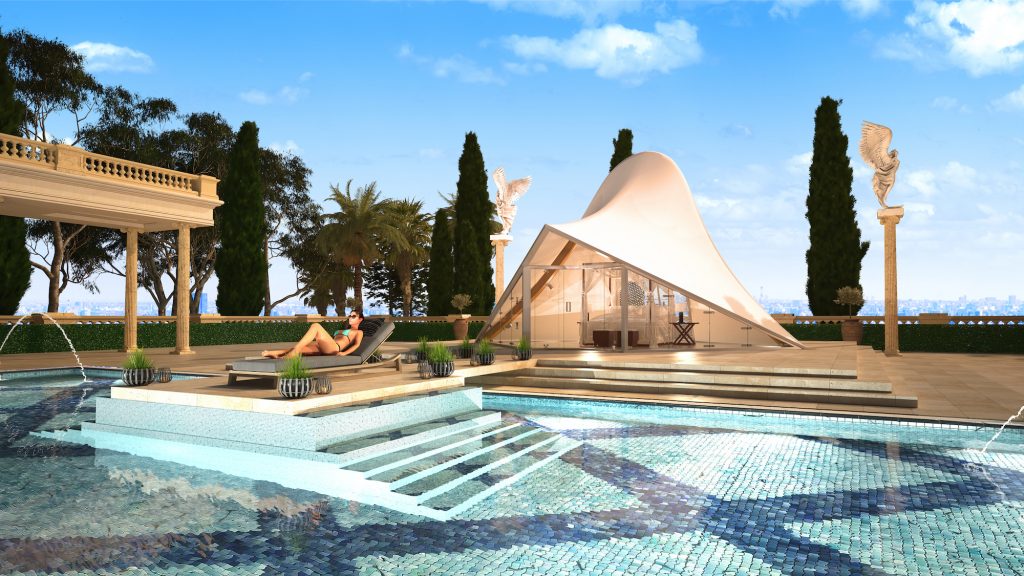 As the world continues to take shelter, an intimate luxury lifestyle product creates new opportunities for "al fresco" experiences.
Brand new, yet rich in heritage, the world's first FABRIQ structure is set to be unveiled at the former American Idol producers' palatial Villa San-Juliette Vineyard & Winery in San Miguel, California next year. This momentous occasion will celebrate 40 years of preparation, specialty manufacturing, and relentless persistence.
What began as a temporary church design that was commissioned by a church in San Francisco, but never built, became a quest to create a sublime tensile architectural structure. Prominent tent designer, Bill Moss (1923-1994), whose work graces the Louvre, the Smithsonian, and the Museum of Modern Art, did not have the honor of seeing his church design brought to life. Inspired by his vision, modern-day disciple, Bill Wesnousky, is now working with a global team to ensure this happens.
When Wesnousky first set eyes on a Moss design he was just 33 years of age and accredited that happenstance viewing with a calling that has since spanned much of his life. Years later, in 1999, Wesnousky purchased the Moss church design, with a vision to transform what was intended to be a temporary tensile structure into a permanent architectural structure of equal beauty and functionality. To make this transition, yet simultaneously retain the cathedral-like, spiritual qualities of the original design, Wesnousky enrolled a team of top architects, engineers, and glass designers to create an architectural wonder like none had ever seen before.
The organic, modern structure that features a translucent, curvilinear fabric roof using the same fabric as the Wimbledon Tennis Center Court Roof, a curvaceous Douglas Fir glulam beam, triangular frameless side window walls, stainless steel spider fittings, a tempered glass entryway, two stately floor-to-ceiling pivot panels, and a ceramic glass cathedral window that invites in a stream of natural light from high overhead. Intricately detailed and meticulously constructed using only the finest materials, the otherworldly structure provides cocoon-like shelter, while embracing all that surrounding nature has to offer.
Unobstructed 180-degree views, customizable finishes, and climate-controlled convenience make the majestic FABRIQ structure a unique and timeless property investment and an opportunity for "al fresco" entertainment in the safety and sanctuary of a residential estate.
Also soon to be available in a larger size that is ideal for commercial use, the one of a kind structure offers an unparalleled connection with the outdoors, while creating a sacred space for a quiet private retreat, a luxurious poolside haven, unrivaled yoga, and massage treatment areas, irresistible guest quarters, a place to host private parties beneath the stars, wine tastings overlooking estate gardens, weddings unlike any other, and corporate events that are sure to make memories.
Now, 73 years of age, Fabriq Pavilion, Inc. Founder, President, and CEO, Wesnousky shares that the structures, which range in price between $800,000 and over $1,000,000, "possess beauty, sensuality, spirituality, and a dream come true quality." Adding that "FABRIQ is personal, social, and cultural—a safe haven, a private place to entertain, and a signature architectural showpiece ideal for our unprecedented times."
---
Written by Camilla Carboni:
A luxury copywriter, bestselling author, and luxury brand consultant; with a love of life, fine wine, words, and travel. She graduated with a Master's Degree in Consumer Psychology and English, and obtained certifications in Business Writing, SEO, Content Strategy, and Coaching.