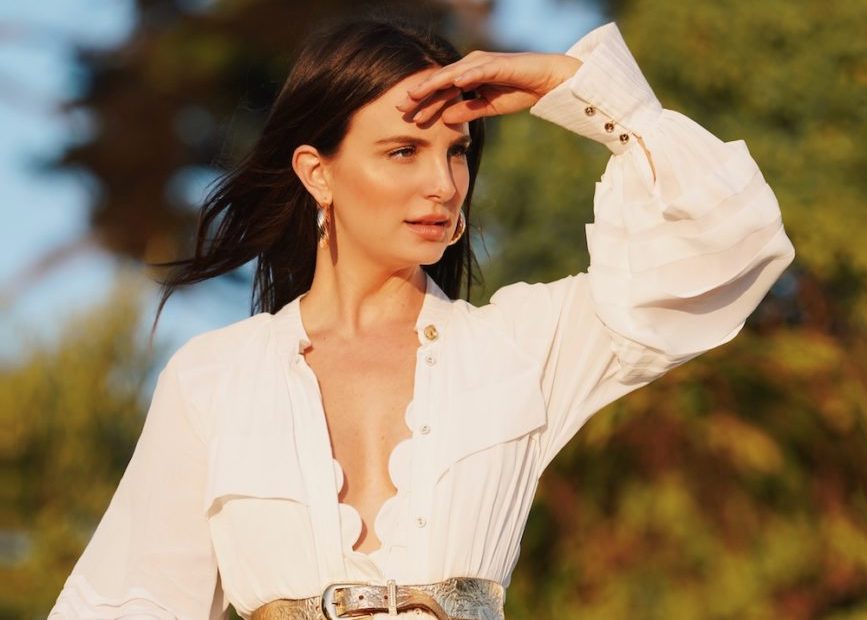 Caitlyn Chase is a blogger-turned-entrepreneur who is based in Los Angeles, California. She has collected an extensive number of online followers of affluent lifestyle lovers since the launch of her blog in 2011, Caviar & Cashmere. At the age of 18, she started her career as a fashion and beauty writer for highly-acclaimed publications in the USA.
Caitlyn thrives on exploring the world of luxury lifestyle. Her initiatives include sharing the things she discovers and loves with her readers, aiming to inspire them to lead a well-lived life.
This month, TLN Magazine had an opportunity to conduct a digital interview with Caitlyn Chase. Let's discover more about the brain behind the successful American skincare brand, Caviar & Cashmere.
1. What motivated you to launch your skin care brand, Caviar & Cashmere?
My skincare brand, Caviar & Cashmere, which is named after my luxury lifestyle blog, was born out of necessity.
As a writer and blogger, I had been sent countless skincare products from brands all over the world to review over eight years. While I loved skincare, I did not love the skincare process.
Most skincare brands I was sent touted 10+ step routines with products that were not only confusing, but also contained toxic ingredients I could not pronounce. I searched for a skincare line that had less products and more simplicity, but could not find one. I asked my followers for recommendations, and no one seemed to have the answer. So I decided to create my own.
I formulated a line of streamlined skincare that simplifies the skincare routine, dwindling it down into just three steps: a cleanser, a serum, and a moisturizer.
All of my products are non-toxic, vegan, and cruelty-free, with ingredients you can actually pronounce and a straightforward regimen you can actually stick to. I helped choose the product categories, ingredients, and packaging with the help of my loyal following who had a hand in the brand-building process. It paid off, as I built a solid customer base before the products even came to market.
2. How do you get people on board with a new or unusual idea?
When I first launched my blog, it was 2011, and at the time, it was pretty unusual. Blogs were just beginning to become popular, but were not yet mainstream. I had to explain that my blog was more like an online magazine rather than a personal journal. From my years as a journalist, I was able to further explicate that my blog allowed me to share and expand upon my personal views and opinions, instead of remaining neutral. I was able to gain readership by being authentic and having a voice which people grew to trust. It did not happen overnight, but once I gained their confidence, they became loyal readers.
The same goes for my skincare line. At first, and still to this day, I have to explain why my line is better and how it is different from others. A lot of education goes behind marketing and sales, and I have learned that it takes endurance and patience to see things flourish and grow. There is no such thing as an overnight success.
3. How do you deal with people who disagree with you?
One of my favorite books is, "The Four Agreements." One of the agreements is to never take anything personally. When someone disagrees with me, I remember that it is not about me; it is about them. I value others' viewpoints and do not shy away from healthy debate. Everyone is entitled to their own opinion.
4. Have you ever had bad reviews? What did you learn from them?
I have been fortunate enough to have a very loyal and respectful community of readers on my blog and followers on my social media. I have built a zero tolerance policy for hate, so any time I've had an unwarranted bad review or someone coming after me unrightly, I delete and block. As I said previously, I value and respect others opinions, but I do not tolerate hatred or negativity.
5. How do you help your team grow and develop in their craft?
Having a team I trust is of utmost importance to me. One of the biggest lessons I've learned in business is to know how to successfully delegate. But you cannot do so without trust. I love a collaborative workplace, where team members can bounce ideas off each other in a place of non-judgement. I encourage them to test those ideas and see if they work. If not, I encourage them to quickly pivot and learn from what worked and did not, and share the feedback with the team. I'm all about supporting a team with whatever they need, while giving them space and freedom to go after their individual ideas and own their work.
6. What do you think the importance is of being organized?
Being organized is one of the most integral qualities of a successful person. When I was a child, my parents knew I had the character of an entrepreneur. I would color-coordinate my toys, pick out my school outfits the night before, and alphabetize my books, all before the age of five.
Organization is the keystone of a small business. As a small business owner, you often wear many hats, and have to balance many things at once both effectively and efficiently. Time is money, and if you are not organized, you can waste a lot of it by merely looking for things you did not initially organize properly.
7. Can you give us a tip on how to maintain sovereignty as a brand?
I started my brand with consumer sovereignty, as I took my audience along with me in the brand building process. From the actual category of products, ingredients, to the packaging they are in, the consumer was invested in the final outcome. To date, I have listened to the customer and let them guide the business due to demand and necessity. For instance, I created Caviar & Cashmere caps as a marketing asset, to gift at events and to VIP clients as an extra-added level of sun protection for their skin. Customers then began to see those caps on people, and wanted to know where they could purchase them. Although not initially in the business plan to produce and sell caps, we listened, and put them up for sale on our website.
8. Why do you think having a skincare routine is important?
There are countless reasons why having a skincare routine is important, and why both males and females should start young. Your skin is the largest organ on your body and it works hard every day to protect us from harmful elements, so it is more than a surface-level concern.
Investing early in the health of your skin, with a quality and consistent skincare regimen, will not only better protect it, but also keep you looking and feeling your best. And when you look good, you feel good.
9. What do you think is the best homemade skincare regimen for you?
All of the Caviar & Cashmere Skincare products have a clear and simple purpose. They are meant for daily use, both morning and night, for a healthy skincare maintenance routine. While the products are formulated for all skin types and are suitable (and recommended) for daily use, everyone's skin is different and may need supplemental products and/or help to address specific skin concerns. For example, some may experience breakouts due to hormonal changes and there are add-on ingredients at home that you can use to address that concern, such as natural tea-tree oil or witch hazel.
10. How do you define a 'modern woman'?
A modern day woman is fearless and confident. She goes after what she wants and knows that she deserves it. She is independent, sophisticated, fiercely passionate, unapologetic, and multi-faceted.
---
Written by Garz Bumanlag