Angle 1 – The Art Expert
How did your upbringing around art translate into a career?
My upbringing had everything to do with my love for fine art. My family fostered it, instilled my passion in fine art. I grew up breathing art. Our life revolved around a combination of fine art, ballet, opera and classical music. Whilst my father is predominantly known as a successful global entrepreneur and businessman, he studied Music as an undergraduate and is also a professional concert pianist by training. So we have always shared a passion in the arts together.  Even today, we speak almost daily about something that has struck us as interesting in the arts, be it fine art, or the performing arts, theatre, opera, dance, or music. I suppose it was only natural that I found my career in the art world.
You have worked for prestigious institutions, tell us more about these experiences?
Having grown up in a family of collectors, I suppose it was only natural for me to want to pursue a career in the art world. I took a few stepping stones along the way before finally arriving into the business of art. I graduated with a law degree from Cambridge University, and had the pleasure of working at both Goldman Sachs and Sotheby's, spending time across New York, London and Hong Kong. Whilst completely different, both of these institutions provided fascinating and invaluable experiences for me. I learnt much about the finance and business worlds at Goldman Sachs, it was fast paced, intense and exciting. After several years, as I took a more prominent role in representing my family's art collection, I decided to pursue my passion in fine art. I joined Sotheby's on New Bond Street in Mayfair, London and stepped into the art world. Sotheby's was an incredible experience as it allowed me to fully immerse in the exclusive world of auction houses. At the time, apart from my boss, Patti Wong, the Chairwoman of Asia, I was the only Chinese speaking employee in the company. So I had the pleasure of bidding for every telephone bidder from Asia who required translation, be it for a Mouton-Rothschild wine collection, to a Ron Arad design table, to paintings by Monet, Miro, Picasso, Warhol or Lichtenstein. I have very fond memories of all these experiences, all of which helped lay the foundation for my career in the business of art. Ultimately I set up my own private art advisory business, Shanyan Koder Fine Art. These experiences were also instrumental in the setup of my Chinese contemporary art business HUA, a platform celebrating a combination of my Chinese heritage and my passion for contemporary art.
What does Art mean to you in today's world?
It's an interesting question, as Art carries very different meanings for each and every individual. For me, Art is and has always been a way of life, a guiding passion that has informed my senses for as long as I can remember. It was my love for art that sparked the beginning of my Artist-Muse relationship with Andrea Buccellati of the exclusive, world-renowned, jewellery label, Buccellati. I became his Muse eight years ago. He wrote about me as his Muse, "When she speaks of her love for art, her appreciation twinkles into a beaming spotlight, illuminating the space around her." (Buccellati website, Muses page)
I connect with Art on a spiritual, emotional level. Art is spiritually soothing for me, it has always comforted me at a time of need. As an artist myself, colours have always spoken to me, especially the relationship of colour created by the softer shades.  Pastels in particular speak loudly to me. The balance of colours in a composition can speak volumes. One can never underestimate the power in the relationship between colour and composition, such as those in a magnificent Rothko, or in an Abstraktes Bild by Richter. When I appreciate art it fuels my soul, and helps me find resolution on a deeper, emotional level.
Art is also, for many, now tied into investment. How does that factor into your outlook?
Of course, the value of art is an important factor when looking at purchase price. Like all purchases of significant value, one certainly does not want to overpay. Art is also unique, there is only one original art work, unless you are looking at prints, where there are a limited edition number. The uniqueness of each work makes value very interesting, as it can become subjective.
Who are your favorite artists?
I have a deep spiritual and emotional connection with most of the artists in my family's collection and my own collection.
When I was a child, my family collection started off purely in the Impressionist period – we collected works by Renoir, Pissarro, Monet, Degas. As a ballerina myself, I grew up particularly drawn to Degas as a painter and a sculptor. I particularly loved his pastel works on paper of ballet dancers. I also the raw elegance of his bronze sculptures.
We then moved on to collecting the Post-Impressionists and Modern masters – Chagall, Matisse, Van Gogh, Picasso. As I became more prominent in representing the family collection we continued to move on through the art movements. We added the Surrealists – Dali, Magritte. We added some prominent Chinese modern masters, Chen Yifei, Sanyu. And now, we have moved further into collecting Contemporary Masters such as Warhol and Basquiat. I love how my family collection continues to evolve, it makes it always so interesting and dynamic. All of these artists have a special place in my heart.
What is your favorite piece(s) of your collection?
It makes sense thinking about it now, that my own private collection, which is more a mixture of emerging and established contemporary artists, follows a more classical aesthetic . I collect across the art practices ranging from paintings, sculpture and installation, abstract and figurative, but each work I own carries a sense of the classical, a touch of romance. If you look at the art in my collection I think you would see elements of history, you will see hints of religious faith, you will see celebrations of the beauty of the human figure, the beauty of life , the beauty of death.
My favourite piece from my collection has to be my Damien Hirst Butterfly painting that hangs in my London residence. It is from his Kaleidescope Butterfly series, and is made entirely out of real butterfly wings. The wings are arranged in such a way that is reminiscent of a stained glass window in a cathedral or church. It is no surprise that it is titled Eden, given the biblical references of the composition and colours. It is an absolute delight to view the painting; the display of colours by the natural beauty of the butterfly wings is a celebration of Mother Nature and the beauty of natural science and natural history itself. Some of the butterfly wings, particularly those of the Papilio Ulysses, are irridescent and create a sense of luminescene across the entire work. I love how the painting is subtle yet powerful reminder of the beauty of life, and the beauty of death. Butterflies have a very short life, they are beautiful in life as in death. For me it is a constant reminder telling me to always cherish the present, to appreciate life, to live my life, not to take anything for granted. It teaches me also that even in death, things are beautiful, so whilst life is so short, one should accept and embrace death when it is our time.
What are your thoughts on the contemporary/modern art scene?
I am an avid collector of contemporary art as well as modern art. (The Modern art and Contemporary art scenes however are completely different, so just to clarify)
I have always enjoyed and appreciated Modern art as a child, growing up and collecting works by the modern masters such as Matisse and Picasso. Then we continued into the Modern surrealists, Dali and Magritte. I remember bidding for a late work on canvas by Miro at a Sotheby's auction in the late 2000s. The prices of these works have always commanded attention. The institutional museum shows across the biggest cities in the world continue to elevate the value of the artists. Glamorous evening sales, beautiful exhibitions at the auction houses, worldwide tours of the highlighted artworks. The prices have continued to rise for these masters, as have the appetite for owning these works. Whilst there have been some explosive sales, such as Le Garcon a la Pipe by Picasso in the early 2000s, I would say modern art in general holds its value consistently and steadily.
The Contemporary art scene is a completely kettle of fish. It's a very exciting space indeed – dynamic and ever-changing. Prices of living artists can easily sky rocket and then just as quickly, they can come down again from its highs. Of course, the "mainstream" contemporary art masters will always command a certain value. Warhol, Lichtenstein, Basquiat, Hockney, amongst many others in the same league. Many other contemporary artists still fluctuate in value as the world of collectors and art investors move in and out of different aesthetic and styles. I generalize, of course. It's a very exciting space indeed – dynamic and ever-changing.
It is such an important time now to watch this space, as the art world develops together with the ever-evolving digital and technology age, and the emergence of NFTs. I think its wonderful to see how collectors and investors alike evolve in sync, almost like a dance, with the new technologies of the contemporary art creations.
Any emerging artist(s) to watch for?
I am very fortunate to have built some special friendships with many of the contemporary artists that I collect. To name but a few,
Fredrikson Stallard (Patrik Fredrikson and Ian Stallard)
Philip Colbert, and his wife Charlotte Colbert
Massimo Agnostinelli
Zhuang Hong Yi
Jacky Tsai
Cydne Jasmin Colby
What is your specialty as in your forte? Which medium do you prefer to work on?
If I was to allow the artist in me to speak, I will always use Pastel on Paper as my preferred medium. I love the texture of the pastel, I love to rub and mix the colours into the particular shade that I want with my fingertips. It is a soft medium, very delicate and feminine.
For young novice collector who would like to start from somewhere, could you give us a few tips on how to curate the perfect collection?
I will share three pieces of advice I learnt from the three most important figures in my art collecting life. My father always said to me. Don't get carried away chasing a work of art. My husband always said to me. Buy what you love. My art teacher always said. Trust your instincts
Can you share with us a few striking memories as: an art collector and a museum/gallery curator?
You launched a fine art boutique consultancy, tell us more about that experience…
I suppose it was only natural for me in my career path that I opened my own fine art advisory. My business started off as, and continues to be, extremely exclusive, very bespoke. I advise a small handful of high net worth clients, mostly out of Asia. I am fortunate to have had the pleasure of advising my clients for many years now, and it is something I appreciate and am grateful for.
A disruption, such as the pandemic, is often a great source of creativity for artists – to your opinion, how will it play out in future creations?
This is incredibly interesting, as we have seen such an explosion of creativity since the start of the Pandemic. The lockdown has, in many ways, been instrumental to many artists I know in giving them the time and space to pause, reflect and create new body of works.
You have been vocal about being a key player in the digitalization of art dealing, do you foresee an end of galleries or physical auctions in profit of online events?
The digitalization of art dealing has certainly helped art dealers and art collectors alike to buy and sell art in a more efficient manner, but I do not foresee an end of galleries or physical auctions at all.  Despite the NFT movement we are witnessing now, the vast majority of art is and will continue to be physical art, be it works on paper, metal, canvas, sculpture, installation. We are physical beings, and whilst we do live in a digital world, where art can be digitalized into virtual or even artificial intelligence form, I still believe art will always exist in the physical form, and we as a society will always need and in fact continue to thrive in the presence of physical art, and with that, comes with the continued existence of art galleries and museums alike.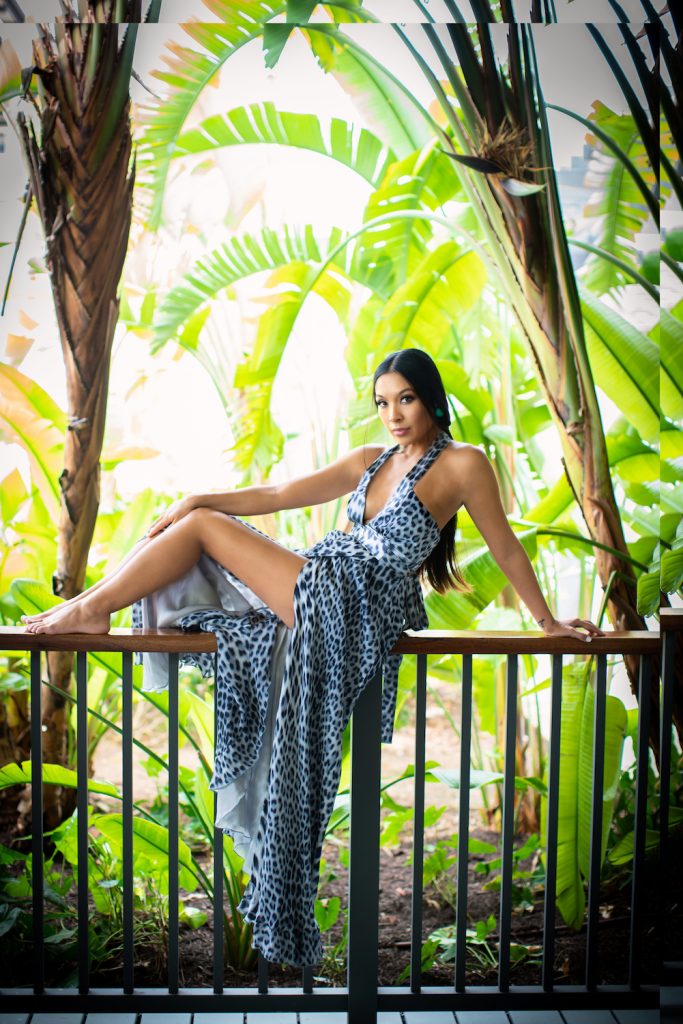 Angle 2 – The Successful Woman
What is the best piece of advice that you received and from whom?
You evolve in an international area; how does that shape you as a woman?
I am very fortunate to have lived a very global life from a young age. Born and raised in Hong Kong, I attended Cambridge University in the UK, after which I had the pleasure of living and spending significant amounts of time in Hong Kong, London, New York, Los Angeles, Sydney, Paris, Rome… but to name a few cities. The pandemic has added The Bahamas to the list, and more recently, Miami. Such life experiences with such global exposure have been transformational in the way in which I interact with and view the world. The world is actually a small place and we are all connected in one way or another, there is often just one or two degrees of separation from one person to the next. As a woman evolving within the international arena; I suppose my life experiences has helped me with the benefit of exposure, the world has never really overwhelmed me, it excites me. As a woman in the arts, I have always embraced my femininity, and in doing so I feel empowered. As a woman of my ethnicity, I am proud of my Chinese heritage, and that is what triggered me over ten years ago to found my contemporary Chinese art platform HUA. It is a celebration of emerging contemporary Chinese artists and gives them a digital platform to showcase their work.
I am thankful for the wealth of knowledge and exposure my life experiences have given me. And I welcome more of it!
As a mother and a very busy women, how do you manage your life to balance it all? 
Balance is important. I have always believed that achieving a sense of inner peace is key in managing all the conflicting demands of daily life. This applies to all aspects of life, in business, in the family home, as well as physically, mentally, emotionally, and spiritually. I don't think work life and family life have to be mutually exclusive. I suppose I am fortunate that my line of business also gives me great pleasure and a sense of internal balance. That is the benefit of working in art, I am blessed to look at beautiful works of art every day. I greatly enjoy my work, when I look at works of art for my clients or for one of my many art projects, I feel stimulated, mentally and spiritually invigorated.
I love being a wife to my wonderful husband and I adore being a mother to our three beautiful daughters. I absolutely love motherhood. I love being involved in all the daily intricacies of raising my girls. Motherhood isn't easy, not by any stretch of the imagination, but I suppose once you achieve that spiritual balance, nothing becomes overwhelming. Achieving a sense of spiritual balance is the essence of my daily life.
I suppose I have always been a bit of a romantic in the way I view life, I love to find the poetry and the beauty in everything that I do. One thing I love to do is to wake up early every morning, before my babies or my husband, to watch the beautiful colours of the morning sunrise. Drinking in the shades of peach, orange, and pinks that make the sky glow…. I suppose that recharges my soul and refuels me spiritually for the day to come.
Classical music plays a significant role in my life. I play the piano daily, it is a family tradition. My grandfather played, my father plays, now my daughters also play. For me I enjoy playing pieces from the Romantic period, Chopin, Lizst, Brahms, and some Beethoven, I find their music gives me a sense of inner peace and serenity. If I had the opportunity, I will always attend a virtuoso piano recital at the Cadogan Hall, at  Wigmore Hall, or if in New York, at Carnegie Hall. I welcome any opportunity to visit the Ballet, or to enjoy a Puccini Opera.
Giving back must be an important value to instill as a mother, what prompted you to start?
Whilst I am known predominantly as an art world entrepreneur, having founded several art businesses over the last twenty years, I have over the last two decades supported many other causes close to my heart, some of which I have worked closely with over the years as Art Ambassador.
Sadly, I had the misfortune of having suffered the loss of three unborn babies during pregnancy. The grief, the spiritual, physical and mental impact, that comes with this loss is beyond words, unspeakable. Each time, I was distraught with grief, sadness, a sense of complete helplessness. But with time, I eventually found the strength to cope with my loss, and perhaps I even grew stronger from it. I found my own spiritual formula that helped heal my soul and being. During this healing process, I found that the causes of preterm labour and premature birth continues to be scientifically unexplained, and premature birth is still today's highest cause of death in babies. I also found that as a subject matter, dealing with loss continues to be a largely unspoken topic.
As a result of this, one of the charities I have supported over the years as Art Ambassador, hosting a number of Art fundraising soirees in their benefit, is Borne, a leading scientific research foundation in the field of preterm labour and premature birth. It was for the benefit of this charity that I hosted a number of art dinners, where I felt I could combine my passion in fine art with my passion to support philanthropy causes close to my heart also.
I have served on the Advisory Council or on the Board of several international art institutions globally, such as the Serpentine Galleries, the women-only board of the New Museum of New York, and most recently Eye of the Collector, a new boutique art fair in London. One of the contemporary art galleries of which I am a Board Member, Unit London, kindly offered me their gallery space for my philanthropic art dinners in the benefit of Borne. I had the pleasure of hosting several meaningful fundraising dinners, where patrons enjoyed the striking art exhibitions shown by one of the most exciting contemporary art galleries in London, and at the same time were offered an opportunity to support a meaningful charity close to my heart.
Mental health is another area in which I am a passionate advocate.
As a mother of three young daughters and stepmother of three young-adult sons, growing up in an ever-evolving digital age, understanding and navigating child and teenage mental health is one of my greatest priorities as a parent. I have witnessed teenagers close to my heart lose their way to insecurities, addiction and succumb to the many damaging effects of contemporary society today.
As a young mother myself, I came up with my own philosophy, "Happy children are successful children", and to this end I am determined to find a way to help guide children and young adults through life, with a focus on health, positivity, confidence, and resilience.
Following the loss of my babies during pregnancy I continued to witness so many people across the world, regardless of geography or demographic, suffer in silence, or cope with their issues in silence. There are many factors, including culture, society, religion, pride, family, peer pressure, which stops one from opening up about their issues. During the pandemic, living in lockdown brought to light many more mental health issues that need to be addressed.
And this was the trigger for me. Mental health affects anyone, regardless of age, gender, status or race. Mental health issues are unique to each and every person. Helping those people who struggle with mental health issues, and particularly those who suffer alone and in silence, find their own formula, has become a passion for me.
To this end, in partnership with my ex-military co-founder Richard Bassett, and in collaboration with stars Jason Carl Fox and Dr Emily MacDonagh amongst others, I am thrilled to announce the recent launch of our latest project, Mentor360 – an App promoting Mental Fitness. The App launched in early September, and our mission is to improve mental fitness, enhance self awareness and lead the user to "finding your formula".
Mentor360 promises to be your Pocket Mentor, a safe space for all, free from judgement and discrimination, and focuses on mental fitness, holistic wellbeing, mindfulness and performance. Our content has been composed by leading psychologists and health care professionals. We are also excited to be working with Tommy Mallet, Malin Anderson, and Alex Waller amongst many others as our Mentors.
Since the App has been available in the App store in September, the last few weeks has seen us gain incredible momentum, and we have very exciting plans on where to take this forward. Watch this space.
As a philanthropist, how would you like to see your work in this field developing in future?
I would love the opportunity to continue to combine my knowledge and experience in the art world with philanthropic projects that carry significant meaning for me. I look forward to collaborative projects between the art world, the luxury world, and the performing arts world. My passion is in fine art, also in dance and in music. If there is an opportunity to create a project with all three aspects, and tie it to a good meaningful cause, that would be a dream come true. The possibilities are endless and I am excited to explore what the future may hold.
You have collaborated with jewelry and fashion brands, how did these collaborations come about?
It's all rather serendipitous. I have been very fortunate to have been selected as a Muse for one of the worlds most celebrated fine jewellery label, Buccellati. Originally founded in Italy by the Buccellati family, Andrea Buccellati himself asked me to formally partner with the label as their Muse almost 8 years ago, and I am ever so grateful to have been the inspiration for his Romanza collection, Buccellati's engagement ring collection. Together with his daughter, Lucrezia Buccellati, heiress to the business, with myself as Muse and Lucrezia as jewellery designer and the creator of the Romanza collection, we modelled the Romanza the collection together, and hosted the launch of the collection in their flagship store in Mayfair London back in 2014. It was an incredibly special experience, Lucrezia was a delight to work with, and the collection itself was very successful.
A few years ago I had the pleasure to collaborate as Muse for a world-renowned interiors artist, the one and only Sera of London. She had created a new Bohemian vintage fashion label, Sestra Moja. It was a very special project with a wonderful, free-spirited, generous soul, and I loved wearing all the pieces in her collection.
Even today, I am very fortunate that I can continue to enjoy my work as a Muse to a number of internationally acclaimed artists and creatives in the industry. It is a both a pleasure and an honour.
All of these experiences in jewellery, fashion, and art of course, have led me to be co-founder of a luxury digital showcase App, Global Showcases. The App, about to be launched in New York early next year, provides an invitation-only digital experience for discerning clients who wish to acquire the world's most exclusive pieces.
What are your plans and what is coming next for Shanyan Koder?
Every year I wonder to myself, perhaps this year I will slow down a little. And every year I must admit that I surprise myself as to how much I didn't slow down. In fact, I often wonder how I manage to achieve quite the opposite.  The last 18 months, the pandemic, however, has certainly given me the time and space to me pause and reflect. I am faithful, I am spiritual, I believe in fate and destiny. I believe everything happens for a reason, and that God has a plan for me. So yes, I do have plans, in art, in philanthropy, in family life, but let's see where the wind takes me.