An interview with Mr. Vipul Kapur, Head of Private Banking at Mashreq Bank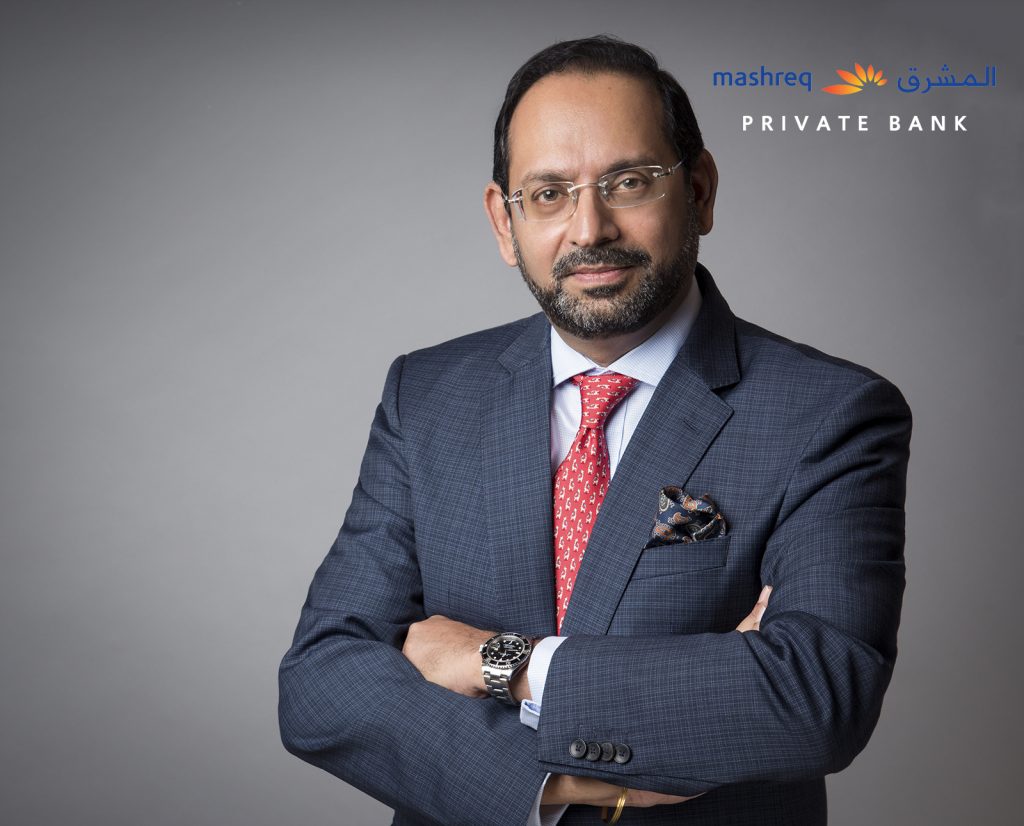 1.What are your views on ESG investing?
Health, wealth, and happiness are quintessentially the three things which most people aspire. While happiness is a state of mind, the rest two can be acquired. The approach of investing for wealth creation is nearly as old as humankind. However, the trend of investing for socially responsible and sustainable profit is only just gaining currency. Touted as one of the defining investment trends of 21st century, Environment, Social, Governance (ESG) investing is not only fast gaining currency but can potentially change the investment landscape for good. Currently, approximately USD 30 trillion worth of assets are being managed under some form of ESG mandate by asset managers around the world.
2.Do you think that ESG investing is a sound investment strategy?
There are several factors that make me believe that ESG investing is not only a sound investment strategy but is also likely to become a larger portion of investor portfolios in the years to come. Key reasons include the large and increasing capital at play. Globally, over USD 30 trillion of assets under management (AUM) are currently tracking investing opportunities aligned to ESG goals. This almost 10x growth since 2004 is indicative of the velocity with which global capital is moving towards ESG investing. Further, an analysis by Bloomberg estimates that global ESG assets are on track to exceed USD 53 trillion by 2025, representing more than a third of the USD 140.5 trillion in projected total AUM.[1]
3.Do you foresee a trend or pattern with the new generation  of investors?
Investor needs are evolving. Increasingly, investors are seeking investment avenues where they can use their capital to change the contours of the world and shape it in line with their vision. The millennials and generation Z are more conscious about where they invest money and have shown an inclination to invest in companies that are proactively addressing issues relating to climate change, social welfare, environment degradation, etc. Today, we are seeing the trinity of investors, investment managers, and businesses aligning on the importance of ESG investing and eschewing shareholders' capitalism in favour of stakeholders' capitalism. The movement has received a further impetus in the wake of some of the biggest asset managers in the world, like Blackrock,[2] Vanguard, and Fidelity[3] expanding their offerings of ESG funds.
4.Are investors apprehensive towards ESG investing as it is a comparatively recent and evolving space?
These investments are no longer opaque. ESG investing is not without risks and with institutional money flowing into ESG funds, rating agencies are developing their own mechanisms to score and rate ESG funds. For example, last year, Fitch Ratings launched its ESG approach for corporate and leveraged credits and shows relevant E, S, or G risks that can impact credit quality in a separate section of its credit reports.[4] ESG Investing is certainly gaining traction. The conversations around ESG are getting louder with both investors and companies joining in and sharing their perspective. Increasingly, companies are talking about ESG and bringing it to the forefront in their public messaging, thereby creating awareness even among investors currently not exposed to this trend.
5.How can HNI investors harness this opportunity to generate socially and environmentally responsible profits?
By embracing ESG investing, High Net worth Individuals (HNIs) can generate long-term positive returns while proactively taking steps to limit the impact of unsustainable practices on society and the environment. For example, if you are concerned about the water crisis then you can invest in companies that are working towards creating irrigation or desalination solutions. On the other hand, if you are passionate about addressing the climate crisis, then you can invest in companies that are focused on alternative energy.
A great shift, that can act as a catalyst for the future growth and sustainability for this planet, is currently underway. As an investor, you can contribute to this shift while staying tethered to your overall investment goals by embracing ESG investing.
__________________________________________________________________________
[1] ESG assets may hit $53 trillion by 2025, a third of global AUM | Bloomberg Professional Services
[2] Will BlackRock's Bet on ESG Pay Off? (yahoo.com)
[3] Investors' Top ESG Stocks and Investment Firms are Full of Surprises (investopedia.com)