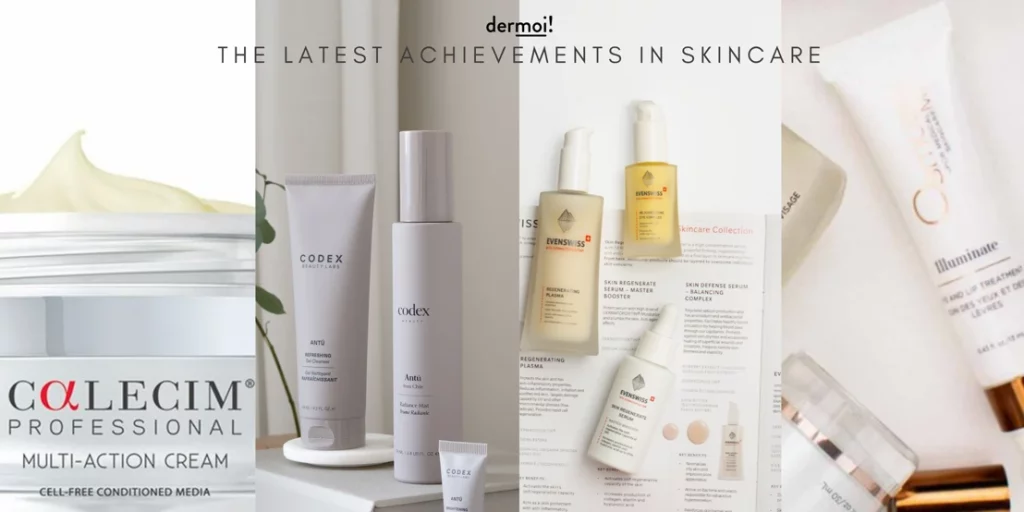 Previously, skincare has mainly served the purpose of cleansing and hydrating the skin. ​ This leads to a softer, supple complexion, but it fails to make long-term changes in the skin or truly protect against premature aging. ​ ​
The next generation of skincare is taking leaps and bounds forward. ​ Cosmeceutical skincare replies on active ingredients with therapeutic benefit and pharmaceutical delivery systems to enhance skin cell functions.
This now means that managing certain skin conditions, like acne or rosacea, and reversing the signs of aging is possible without the need for a dermatologist prescription or expensive procedures.
Today, Dermoi held an event for the Latest Achievements in Cosmeceutical Skincare to celebrate top technological advancements in skin science and cosmeceutical formulation that makes the impossible, possible.
Achievement #1: Boosting the Natural Antioxidant Function in Skin via Genomics
Codex Beauty is a biotechnology-based skincare company developed by scientist Dr. Barbara Paldus. Every product from the brand is clinically proven for efficacy and is my-microbiome certified.
Codex Beauty has developed an anti-inflammatory botanical complex called The AntuComplex. ​ It is a blend of hyaluronic acid and extractions from three key Patagonian plants (Matico, Maqui & Murtilla) known for their ability to soothe irritation and reduce inflammation.
The AntuComplex has been extensive studied. Firstly, it forms a shield against pollution (see image below). Genomic testing revealed that The AntuComplex induces a re-modeling response in the skin. It decreases expression of pro-inflammatory genes & destructive enzymes, while increasing anti-inflammatory, skin barrier, wound healing, antioxidant gene expression.
The activity of three key antioxidant enzymes within the skin called glutathione, catalase, and superoxide dismutase are also increased, leaving the skin with greater ability to protect itself against daily damage and aging.
To discover the AntuComplex check out the Codex Beauty Antu Brightening Serum.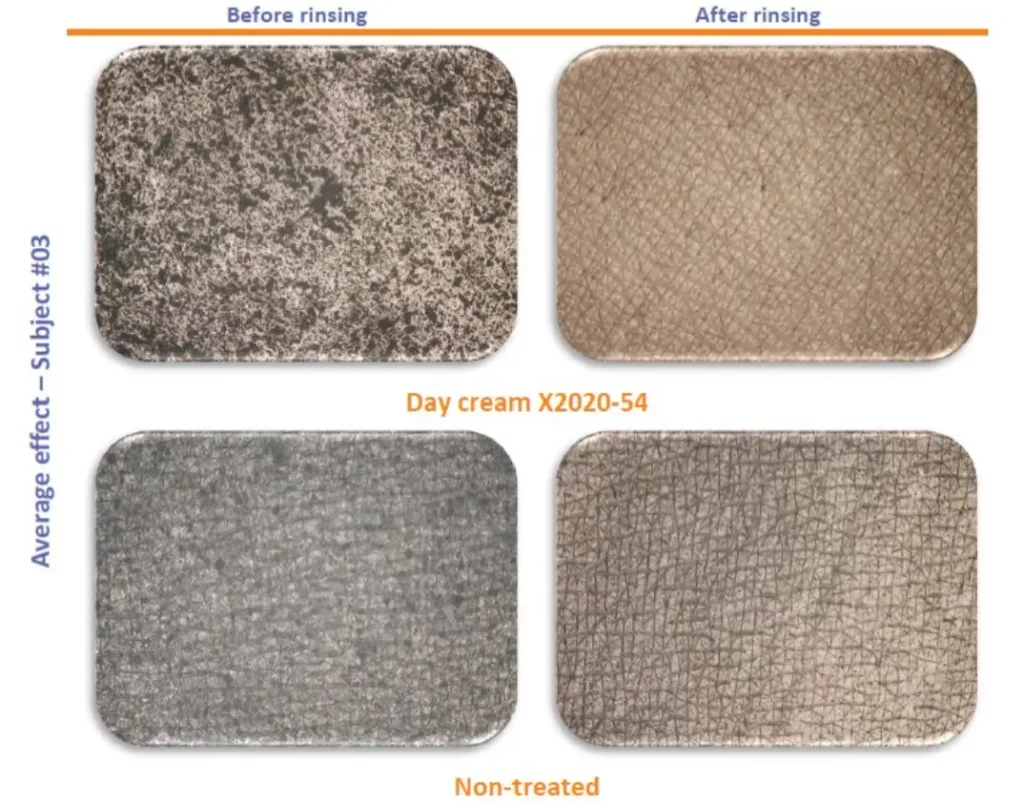 Achievement #2: Stem Cell Technology for Advanced Wound Healing
Younger skin has high quantities of stem cells. ​ Stem cells help the skin to regenerate and overcome damage. ​ This is because they send messages to other cells via protein secretions. With age, skin stem cells decrease and so does their activities.
Calecim has developed a highly concentrated and patented protein mix from umbilical cord lining stem cells with unique signaling abilities. ​ The protein mix contains key proteins, cytokines and growth factors, such as soluble collagen, fibronectin, hyaluronic acid and more, that accelerate wound healing and bring the skin's cell renewal cycles back towards 28 days.
In-vitro evidence of skin renewal, rejuvenation and restoration that take place when skin cells are exposed to the stem cell protein mix. An average improvement in skin thickness of 600% was also recorded.
To discover Calecim's Protein Conditioned Media, check out the Multi-Action Cream.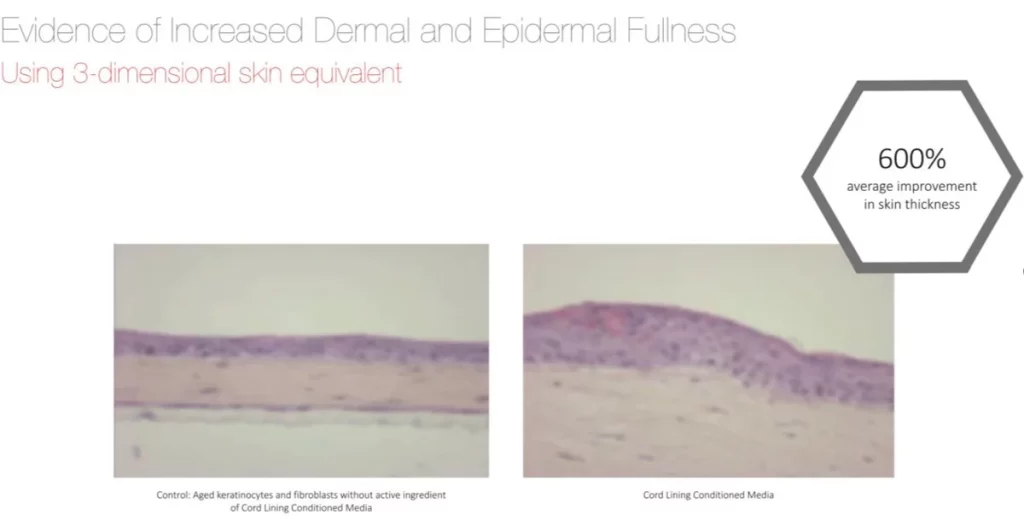 Achievement #3: Rapidly Regeneration via Activation of Signalling Cascades
Skin cells are constantly speaking with each other to ensure they are working in unison to respond to the environment. By understanding these precise signals, Evenswiss has created a 100% Swiss made cosmeceutical range with patented signaling technology called Dermatopoietin.
Supported by 30 years of research and 6 clinical trials, Dermatopoietin offers a completely different way to stimulate cell communication and collagen production. Dermatopoietin is a specialized peptide that mimics the skin signaling protein responsible for regulation and regeneration called interleukin -1 alpha.
When skin cells are exposed to Dermatopoietin, they immediately respond by passing signals to their neighbouring cells. ​ This starts a chain reaction that propagates from the epidermis to the dermis. ​ When the dermis is reached, there is a powerful increase in collagen, elastin, and hyaluronic acid – this is up to 90% in as little as 2 weeks.
To discover the benefits of Dermatopoietin, check out Evenswiss Rejuvenating Serum.


Achievement #4: Generate a 6-fold Increase in Penetration without Excessive Exfoliation
It is very common for skincare lines to focus on exfoliating the epidermis every day. Research has shown this causes skin sensitivity, sun sensitivity, and dehydration.
Osmosis Beauty serums protect the skin's barrier while maximizing the age-reversing repair that is possible with better delivery systems. The range uses pharmaceutical delivery systems (liposomes & exosomes) to generate a 6-fold increase in penetration of active ingredients into the skin. Osmosis combines liposomes with a powerful and non-sensitizing form of Vitamin A, retinaldehyde, that is naturally found in the skin and stimulates long-term collagen production. ​
Osmosis Beauty's high-tech approach to skincare has led them to develop and patented multiple skincare technologies such as oxidation repair technology (trioxolane) and DNA repair technology (AC-11) to target and rejuvenate the dermal-epidermal junction for permanent results.
To discover Osmosis Beauty's Serums, check out the Aging Travel Kit.