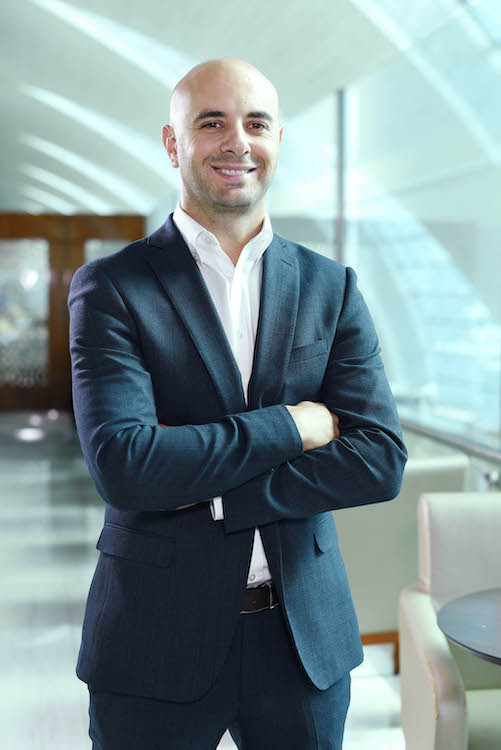 VOSS has been graciously embraced by The Luxury Network UAE as one of its recent members, granting us the privilege of conducting an interview with Peter Karam, the Vice President of VOSS MEA. Our conversation aimed to explore Peter's profound knowledge of the luxury sector and gain valuable insights into the strategies employed by VOSS Water to uphold its status as a distinguished premium brand.
1.     As the VP of VOSS MEA, how do you see the luxury industry evolving in the region and how does VOSS position itself within this landscape?
The luxury industry is evolving towards a greater emphasis on experiential and personalized offerings. Consumers are seeking unique and immersive experiences that go beyond just products. Especially here in the Middle East where there is a massive population of high-net-worth individuals. VOSS positions itself within this landscape by delivering a premium hydration experience that combines exceptional taste, purity, and elegance. We strive to create a brand that represents more than just water but embodies an affordable luxurious lifestyle choice.
2.     VOSS is known for its association with luxury and wellness. How do you ensure that the brand maintains its exclusivity and appeal to the discerning tastes of luxury consumers?
We achieve this by upholding the highest standards of quality and sophistication and by working with the strongest partners in the trade. The events we choose to associate with are top class and we do not take any shortcuts when it comes to brand execution in the market through a high-calibre team.
3.     Can you share some examples of strategic partnerships or collaborations that VOSS has engaged in to enhance its brand image and create unique luxury experiences for customers?
Our partnership with TLN is an example of how we reach discerning consumers in an experiential way through luxury events, while on a regular basis, we are partners with renowned hotels, resorts, and restaurants. We also partner with other luxury brands and curate events through immersive experiences that celebrate the synergy between luxury and wellness.
4.     In your opinion, what role does packaging play in creating a luxury brand experience, and how does VOSS' distinctive cylindrical bottle contribute to its premium positioning?
Packaging plays a crucial role. VOSS is now available in high-grade recycled plastic bottles for on-the-go consumption and our timeless, distinctive glass bottle reflects our commitment to elegance and sophistication. Glass not only enhances the aesthetics but also ensures the preservation of the water's purity and quality. Overall, attention to detail contributes to the positioning of the brand.
5.     Sustainability is an important consideration in the luxury industry today. How does VOSS incorporate this into its brand identity and operations?
Born in Norway where sustainability is not just an idea but truly a way of life, VOSS is dedicated to reducing our impact on the environment. Our efforts include package optimization, carbon footprint reduction, and water source stewardship. We invested in our plant to enable it to operate 100% on renewable energy.
6.     The Middle East and Africa regions have rich cultural diversity. How does VOSS incorporate local elements and cater to consumers' unique preferences in these markets while maintaining a consistent luxury brand image
We understand the significance of cultural diversity and embrace this through localised campaigns and partnerships and respecting the cultural nuances of each market. We often create unique collaborations and limited-edition product launches such as our Arabesque-designed bottle during the holy month of Ramadan.
7.     VOSS has gained a strong presence on social media. How does the brand utilize these platforms to engage with its luxury audience and build a loyal customer base?
Digital media provides an excellent opportunity to engage with our consumers. We try our best to share captivating content that aligns with their interests and aspirations through meaningful interactions and storytelling to foster a strong community of VOSS enthusiasts.
8.     Can you provide insights into the luxury consumer's perception of VOSS in the Middle East and Africa region? What factors contribute to its appeal as a premium choice for hydration?
The luxury consumer's perception of VOSS in the Middle East and Africa is driven by our unwavering commitment to quality, purity, and sophistication. The discerning tastes of luxury consumers appreciate the exceptional taste and premium experience that VOSS offers. The brand's association with best-in-class events, hotels, fine dining establishments, and wellness retreats reinforces our appeal as a preferred choice for those seeking an elevated and affordable hydration experience.
9.     Luxury consumers often seek personalized experiences. How does VOSS create exclusive and tailored experiences for its customers?
We collaborate with all our trade and event partners to offer limited-edition bottle designs, custom-branded cap stickers, and bottle art experiences at various establishments, weddings, events, and supper clubs. This personalized approach allows us to cater to unique preferences creating unforgettable moments and a sense of exclusivity.
10.  Lastly, as someone who plays a pivotal role in the brand's success, what is your vision for the expansive region under your leadership? How do you anticipate the future growth of your business?
VOSS has strong foundations in place to further strengthen its position as the preferred choice for consumers seeking a premium hydration experience. We will achieve this through continuous product innovation (some exciting updates coming later this year), expansion into new markets, and long-term strategic collaborations and key partnerships. By staying ahead of trends, adapting to evolving consumer preferences, and maintaining our unwavering commitment to quality and elegance, I am looking forward to driving sustained growth in these regions and beyond.