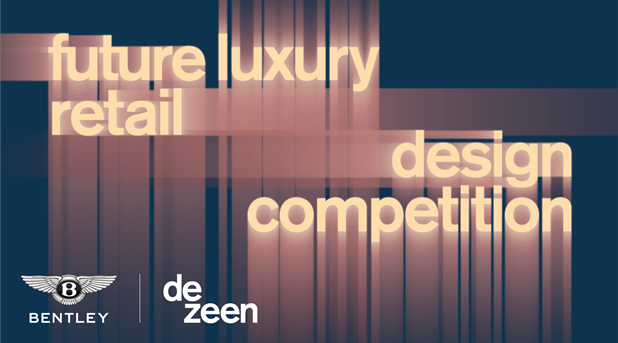 Bentley Motors is pleased to work alongside Dezeen to launch a global design competition to define The Future of Luxury Retail both in and out of the automotive world and in both physical and digital forms.
The contest is designed to invite architects and designers to explore and define innovative ideas and enriching experiences to drive the luxury retail industry forward in a sustainable way.
Entrants are free to imagine any retail experience – the real world, digital or hybrid for any luxury sector; architecture, automotive, fashion, furniture, hospitality, interiors, real estate, specialty travel, wellness, or any other luxury product or service that Bentley could expand into in the future.
Steven De Ploey, Bentley's Global Head of Marketing, said: "The automotive industry is undergoing a profound transformation. Car brands are electrifying their product lines en masse and rethinking the traditional car dealership model which has been the bedrock of automotive retail for generations.

"Other luxury industries are also facing unprecedented change – digital and physical worlds are blurred experimenting with pioneering new technologies – Web3, virtual reality and augmented reality. Bentley too is transforming and has committed to electrifying its entire vehicle lineup by 2030 – the first luxury car marque to do so – at the same time, we are venturing deeper into contemporary lifestyle sectors including interior design and furniture with Bentley Home. It's an exciting time to be in luxury retail and Bentley is at the forefront of driving change – sustainably."
The global competition is part of Bentley Motors' three-year partnership with Dezeen announced earlier this year. Now in its sixth year, the Global Dezeen Awards, sponsored by Bentley for 2023, 2024, and 2025, identify the world's best architecture, interiors, and design, as well as the studios and the individual architects and designers producing the most outstanding work.
The principles of beauty, innovation, and beneficialness are a natural alignment for Bentley, whose unique combination of visually stunning fine craftsmanship, engineering expertise, and innovative technology sits alongside its ground-breaking Beyond100 strategy. With this extraordinary plan, Bentley is creating a future driven by new technologies, materials, fuels, and skills, in the pursuit of a progressive new world: one in which the highest levels of luxury mobility are achieved with sustainable methods.
The competition will open on 22 May 2023 and is free to enter, open to anyone (over the age of 18) with total prize money of £30,000 for the three best designs. Entries will be judged by an expert judging panel, which will be announced by Dezeen in the coming weeks. Deadline for entry is 7 July 2023 and winners will be announced in August 2023.