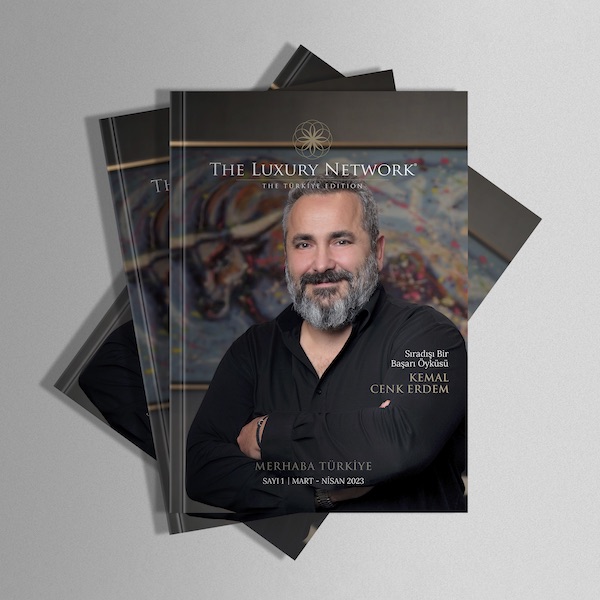 Childhood days spent in bank offices and inspector rooms, school years wandering all over Turkey and to the USA. A business life with a master's degree in computer engineering and a business life on Wall Street, in the heart of the financial world. Just like the arrival of a perfect storm, the success story of Kemal Cenk Erdem, Chairman of the Board of Bitexen Teknoloji, was clear from the very beginning. We were guests in his office to listen to the unknowns of this extraordinary story.
---
You are a well-known name to almost everyone in the financial world. We know a lot about your career journey. But what I'm wondering is this: if there were any clues about these days in your education life?
There is a phenomenon in my life; My mother and father were professionals who worked at Ziraat Bank for many years. Both were good bankers of the time and had started from scratch and moved to managerial positions. On the other hand, I can say that I grew up in banks and inspector rooms. That's why I grew up very familiar with the banking industry. Afterwards, I always dreamed of doing finance-related business in Turkey. On the other hand, I was quite successful in mathematics during my high school years, and this led me to receive an education in engineering and I became a computer engineer.
After my university education, I decided that I should do a master's degree and with this goal, I went to the USA, the state of South Carolina. And did all kinds of side jobs from waiter to gas station to cover my education expenses. My first master's degree was in computer engineering. But on the other hand, my mind was still on the financial sector and the stock market. I say luck because a businessman I met by chance while working as a valet at a golf club helped, patronized, and guided me. Thus, I stepped into the world of finance. I lived in the USA with my family for 12 years, including South Carolina and then New York. In 2008, we took my son, who was then eight years old and returned to our country.
What do you remember when you look back at the US years?
During the 12 years I stayed there, I had experience in all financial structures, leveraged markets, options markets, doing specialized and licensed business, and managing funds. I have both good and bad memories of those years. I experienced all the negativities of 2001crisis and almost lost everything. However, right after that, I had periods of ups and downs, and finally, I was able to reach prosperity and return to my country with a "retirement" level. When I came to Turkey, I saw that there were many financial shortcomings. I have been both a consultant and a partner to many intermediary institutions.
How did the Bitexen era begin, what can you tell us about it?
As I mentioned before, I studied both engineering and finance. On the other hand, I have very long experience in the global market, especially in the USA. Even my graduation thesis was on a project that calculated the direction of the candlestick chart with artificial intelligence in structures such as SNP, Dow Jones, and NASDAQ, where technology and finance merge. So, in today's terms, Fintech is my main area of interest. Although we came to Turkey in 2008, we were recognized as a Turkish company operating globally. Until 2020, we were a software company that developed financial technologies and provided both consultancy and platforms to financial companies. We were serving mostly Asia, Europe, and MENA regions.
My brother Yahya Tuğyan Erdem, like me, was educated in the USA and was closely interested in crypto mining and technologies. And after 2010, a need for buying and selling arose in crypto markets, starting with Bitcoin. My brother is in the first place among those who respond to this need. First, it was carried out in an OTC, that is, over-the-counter structure. Then we started to deal with this business. However, we did not fully enter this sector until 2020. It has two different stories. The first is this; I am the spouse of a brokerage house owner, licensed by the CMB, in Turkey. My wife, Ayşin Erdem, is the owner of a Group A brokerage house in Turkey. While this structure is licensed and compliant, crypto markets are, so to speak, in the "grey area." That's why my wife didn't want us to take up this job. We also developed our muscles in this field abroad.
But when we came to 2020, while watching the match as a strong Fenerbahçe fan, I saw that the opponent team got sponsorship on the jerseys from a company belonging to the crypto industry. And I realized that these businesses are growing in Turkey! Seeing this, my wife was also convinced. After that, we preferred to grow with a Turkish company rather than bring technology abroad to tell our own story and our technology in Turkey. And in the end, we have shown all over the world that this can be done in the best way in our country as well. Maybe we did not succeed in the automobile or aviation industry, but we can compete with the whole world in technology and software.
A Turkish company was a company, founded by four senior mechanical engineers who expanded this business in Teknokent. We met with them, explained ourselves, explained our mission, and became partners with this company, which constantly receives offers from other companies. We established our infrastructure and order. With the pandemic period, some values have changed and this has allowed us to grow even more. We currently have close to three million customers. All registered customers with full KYC. In the middle of 2022, we announced Bitexen Global and made our debut, our first editing, last August. We are licensed in Lithuania, Dubai, and the Netherlands, and we are establishing our fintech structures. We will introduce the technology produced in Turkey globally.
How do you see the crypto markets? What can the coming days show?
I've been in the financial world for almost 30 years. I lived in Manhattan in 2001, the Twin Towers incident and the extraordinary days that followed… Again, I witnessed many financial crises in Turkey. First of all, I must state that we have an important advantage; In combining technology and finance, we have seen the rule mechanism and the dark side of finance, all the possible mistakes. I know very well how variable these structures are. We entered the Fintech world with our own rules and structures. As is common in this structure, we do not come from a background where a few very smart young software developers "make money". Yes, they are very smart, very smart young people, but they could not manage it well, even though they earned such a large amount of money. However, we always predicted and knew the path that this system could follow. And unfortunately, we've seen it in the past, if you don't do that set up well, you're bound to have problems. We have seen such ups and downs in the past, in banks, intermediary fund institutions, and websites. We have personally witnessed the disappearance of very big brands. In my opinion, in this cycle, Fintech companies that have established their systems and infrastructure, and have emerged well from the crisis and good markets, will exist together with technology. Anyone can build a crypto platform, but I don't think everyone can manage and grow it after this time. These are structures that proceed with a serious "know-how" process.
It is probably necessary to evaluate this as a long process, a cycle. Who knows what different technological developments we will encounter shortly?
Yes, for example, we developed a technology in March 2021; payment systems on crypto. We placed the crypto exchange under any licensed structure, where you could bust it, turn it into paper money, and pay anywhere. However, in April 2021, the Central Bank announced that it would not be possible to pay with cryptocurrencies in any way. And we could not implement this project. Another company that started the same technology with us, three months after us, now has a value of 4 billion USD. And unfortunately, as I said, we couldn't grow this business because of a decision that came out overnight. If we had received such an evaluation, our team would probably have 1500 people instead of 500 people, and a part of the budget would be invested again. From this point of view, I must say that support is really important. The future is in investments, regulation, legislation, and support for companies like us. This should not only be perceived as financial support, but intellectual and visionary support is also very important. Companies like us need to pave the way.
But on the other hand, let's not say that Turkey is actually in a very, very good situation in this area. Our country is one of the best in Europe in terms of legislative security, location, and monitoring. The TPK and the government also did very good things at that time. But at one point, we undermined ourselves by lowering the leverages on Forex. All the existing customers went to London and we were left without customers. At that time, about 6000 people were working in one brokerage house in Turkey, now that number has decreased to 250. And these were white-collar, tax-paying employees. Unfortunately, we missed them. Hopefully, we will get our software rights in a short time and provide added value to Turkey.
You work at a very intense pace. How do you deal with stress? What are your escape methods?
I have no nightlife. My greatest happiness is to discover places to eat well and smoke cigars. I can say that my gourmet side is quite developed. On the other hand, I travel a lot. I stayed in Turkey for only 57 days in 2019. From South America, we go to the Middle East, and Asia, to all the countries where we sell financial technology, wherever we have investments, instead of Europe. We attend all major fairs. Of course, in 2021, the pandemic entered our lives and we stayed here, maybe it was good in a way because we grew up here. There will be a similar situation again in 2023; A very busy travel schedule awaits me.
Because of your business life, you need to be together with people from many different cultures. Each culture has its characteristics. What is considered normal in one culture may be perceived very differently in another. How do you manage this situation?
As I mentioned before, thanks to the duties of my parents, I traveled to 13 different cities in Turkey throughout my school life and studied at 11 different schools. So, I can say that I traveled all over Turkey. There is a great diversity of cultures in our country, so I was used to meeting people from different backgrounds at a very young age. Again, in the USA, where I went for my master's degree, I had the opportunity to work with people from different groups in different states. I think all of this has been of great benefit to me.
How did you decide to return from the USA? Did your son, who was eight years old at the time, also influence this? Does he or she have an interest in the financial sector like you?
Yes, I can answer this question as "We came to teach my son to turn off the unnecessary light and put his leftover food in the fridge". Because there are no such habits, wasted lights are not turned off, and leftover food is thrown away. Our Turkey adventure started with these thoughts.
My son was very successful in his education life, he attended high school with a full scholarship and studied industrial engineering at Koç University. But I have been a "victim" for three years; My son is running his own business and I can't give him pocket money! There is an online commerce site that we define as a "reseller" in the high segment, it sells sports shoes in Turkey, Qatar, and Dubai. He developed a business model of his own. It includes online sales, shipping, logistics, customer relations, and payment systems, which means that if we replace shoes with Bitcoin if we put the stock, he can sell it too. He showed that he could do this job independently. And now he will be one of our directors in Dubai – if we can convince him.
---
Who is Kemal Cenk Erdem?
Bitexen Teknoloji Chairman of the Board of Directors Kemal Cenk Erdem completed his undergraduate studies in computer engineering at Dokuz Eylül University and his graduate studies in Information Science Management at City University of New York and Business Administration at Long Island University. Erdem started his career as an option and fund account manager at Westrock Advisors Inc., then worked as an economist at Tacirler Securities and held positions related to finance products, sales, and marketing at Destek Türev. He assumed the role of general manager for Smart Live Markets. He also wrote articles on economics and finance on the website known as Finanstrend.com and worked as chief commercial officer at the European Reclimate Investment House. He became the assistant general manager and then a member of the board of directors at IKON Securities. Kemal Cenk Erdem, who founded Zirve Forex, assumed the position of chairman of the board of Bitexen Teknoloji in January 2020 and became the founding partner of Exenpay in 2021.