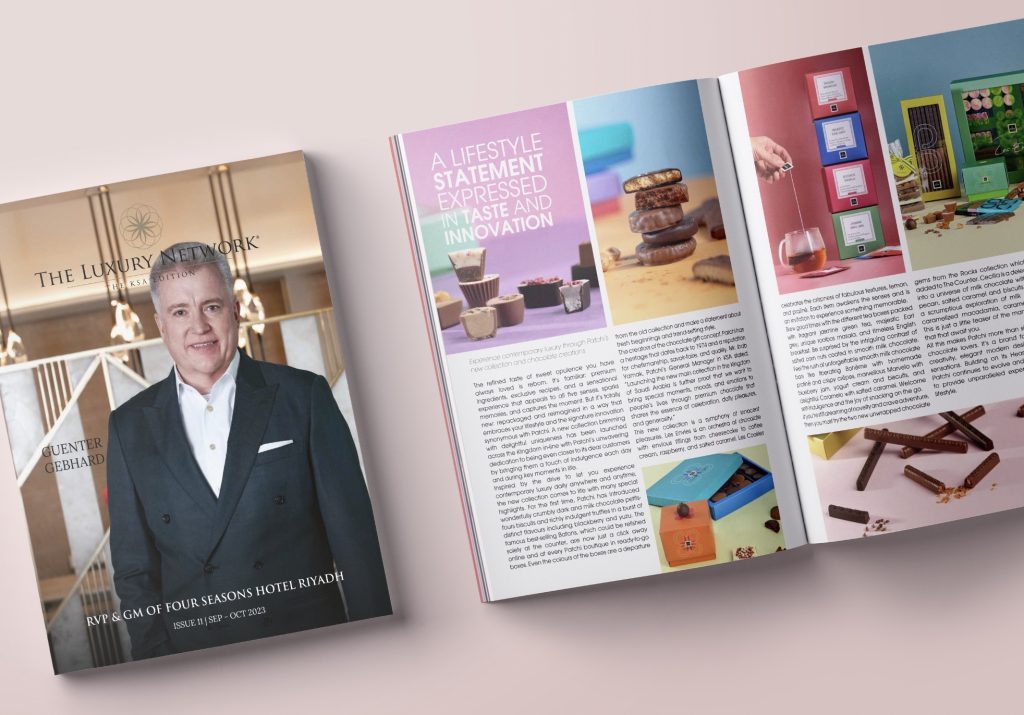 Gracing The Luxury Network KSA Magazine front cover for this issue is Guenter Gebhard, Regional Vice President and General Manager at Four Seasons Hotel Riyadh at Kingdom Centre. His career has taken him through various luxury hotels around the world and in his current role as RVP & GM, Gebhard will be overlooking the expansion of Four Seasons in Saudi Arabia.
Learn more about Gebhard through his interview with The Luxury Network, as he appreciates the unique experience Four Seasons provides, emphasizing the importance of engaging guests and balancing office responsibilities with public interaction.
---
What inspired you to pursue a career in the hospitality industry, and how did your early experiences shape your passion for this field?
My career aspiration within the hospitality industry flourished from my early involvement working at my parents' restaurant. This invaluable experience exposed me to a myriad of facets, from learning how to bake goods, work in the butchery, and serve bars and that led me through my education to becoming a trained hospitality professional.
I also started very early to reach out globally about where I may learn more, and thus completed internships in Asia, including Hong Kong, Bangkok, Singapore, and Tokyo, before settling in New York and working there for 8 years. I later returned to Europe and worked in Berlin before moving on to Abu Dhabi, Dubai, Bangkok, Morocco, Sydney, Bodrum, and Saudi Arabia, further honing my skills and adapting to different cultural nuances. I intentionally selected these places and brands for their uniqueness and esteemed reputation, recognizing that they would offer me invaluable experiences and opportunities for growth.
These experiences have solidified my commitment to the hospitality industry and my appreciation for its ability to create meaningful connections and unforgettable experiences for guests.
What do you find fascinating and challenging about managing a luxury hotel in an iconic building like the Kingdom Tower?
One of the most fascinating aspects of managing a luxury hotel in an iconic building like the Kingdom Tower is the opportunity to be part of history. The Kingdom Tower, developed by HRH Prince Alwaleed bin Talal Al Saud, is not just any building; it holds significant cultural and architectural importance. Being able to contribute to its legacy by providing exceptional hospitality services is truly captivating.
Moreover, overseeing a luxury hotel within this iconic tower, nestled in such a prestigious location, entails meeting and surpassing the loftiest guest expectations. This often means catering to a discerning clientele with refined tastes and unique preferences. It requires us to always stay ahead of evolving trends, perpetual innovation, and the provision of highly personalized experiences that cater precisely to individual desires, ensuring each guest departs with unforgettable memories.
As the Regional Vice President, you oversee a substantial hotel renovation and aim to bring more local talent onto the team. Could you elaborate on your vision for the hotel's development and its impact on the local community?
My vision for the development of Four Seasons Hotel Riyadh is deeply rooted in contributing to the local community, aligning with Saudization efforts and the broader goals of Vision 2030 of Saudi Crown Prince and Prime Minister Mohammed bin Salman.
We are constantly working on being the employer of choice in Saudi Arabia and having Four Seasons Hotel Riyadh as the preferred Hotel for skills development and career growth. We are currently collaborating with local educational institutions such as MISK Foundation, and internally on launching an apprenticeship-modeled education program, where participants receive an internationally and domestically recognized bachelor's degree in hospitality. Our goal is to offer internships, apprenticeships, and employment opportunities, thus directly contributing to the Saudization initiative.
Our ongoing renovation project, supported by HRH Prince Alwaleed bin Talal Al Saud, aims to maintain our status as a world-class hotel, offering experiences that not only attract international guests but also become a source of pride for the local community. After concluding 2021 the renovation of our rooms and suites which reflect Saudi heritage through locally sourced art pieces in collaboration with Alwaleed Philanthropies, we will unveil by the end of the year the second phase of our renovation, which includes a complete redesign of our reception and Lobby Lounge. We will also be introducing exciting new branded venues, including dining experiences from world-renowned chefs, such as Michelin-starred Chef Daniel Boulud and World's Best Pastry Chef Pierre Hermé.
With your extensive experience in the Middle East and North Africa, how do you see the hospitality industry evolving in Saudi Arabia?
The hospitality industry in Saudi Arabia is on a transformative journey- not seen alike globally over the past century- with several key factors influencing its evolution such as the active development of the tourism sector, the creation of new tourist destinations, economic diversification efforts, the country's rich cultural heritage, and global partnerships, to attract both international and domestic travelers. This development includes the creation of new tourist destinations like Diriyah Gate, the Red Sea Global Projects, NEOM, and Al-Ula, which will drive demand for a diverse range of hospitality services.
One noticeable trend is the diversification of offerings within the industry. Saudi Arabia is catering to various traveler segments, including leisure, business, and budget travelers.
This diversification is leading to the growth in 3 and 4-star hotels as well as the emergence of boutique hotels, eco-friendly lodges, and themed resorts, providing a wider array of options to visitors.
Moreover, the hospitality industry in Saudi Arabia is poised to continue its exponential growth beyond 2023, with the country's tourism sector projected to experience an annual growth rate of 6-8% over the next five years. This growth will likely be accompanied by an increasing demand for personalized experiences, sustainable practices, and the integration of cutting-edge technology. The emerging influence of digital platforms and social media will also play a significant role in shaping the future of the industry.
With several international travelers visiting Saudi Arabia, how is the region aiming at becoming one of the biggest tourism destinations in the world?
Saudi Arabia is strategically positioning itself to emerge as a major global tourism destination by leveraging a multifaceted approach. The nation's commitment to achieving this status is underscored by several pivotal initiatives and strategies.
Central to this endeavor is the Vision 2030 initiative, a comprehensive framework designed to diversify Saudi Arabia's economy and lessen its dependence on oil revenue. A cornerstone of this vision is the ambitious development of the tourism sector, which entails the creation of captivating tourist destinations that cater to a diverse array of international travelers.
Key tourist destinations like NEOM, the Red Sea Project, and Al-Ula are indicative of this approach. Situated strategically as the midpoint between Europe and Asia, Saudi Arabia's location enhances its attractiveness as a global tourism hub. These projects encompass a wide spectrum of experiences, ranging from luxurious beach resorts to historical and cultural landmarks, ensuring an inclusive appeal to a broad spectrum of global tourists.
In tandem with destination development, the nation is actively investing in its infrastructure. Notable strides are being made in expanding airport facilities, enhancing transportation networks, and augmenting accommodations. These enhancements serve to facilitate seamless access to different attractions and provide top-tier amenities to visitors.
Lastly, the introduction of tourist visas has been pivotal in welcoming global travelers. This move promotes accessibility and paves the way for a more robust tourism industry.
Are there any opportunities for Four Seasons to plan for further expansion in the Saudi Arabian region?
Four Seasons is currently focusing on its expansion plans in Saudi Arabia with 10 projects in the pipeline, beginning in 2024 with Medina, Jeddah at the Corniche, Red Sea, NEOM, and Mekkah. These projects are at different stages of development and if are completed within the next 4 to 5 years, Saudi Arabia will have the highest concentration of hotels under the Four Seasons brand outside of the United States.
An upcoming property in Jeddah within the Corniche District will offer 269 luxury guest rooms and suites, 21 serviced apartments for short and long-term stays, and 64 private residences including two penthouses. The company has also signed a new hotel in Diriyah, which will include approximately 150 luxuriously appointed rooms and suites. A new luxury resort for Four Seasons will also be part of the NEOM master project on Sindalah Island. This is in addition to an upcoming resort at the Red Sea development and a new Four Seasons Hotel in the holy city of Makkah in a striking new building adjacent to the Grand Mosque.
All these new projects reflect the immense potential and growth opportunities that the Saudi Arabian market offers. The country's Vision 2030 plan, which emphasizes tourism and hospitality as vital components of the economy, aligns perfectly with Four Seasons' commitment to providing unique and exceptional experiences for our visitors.
About your "Coffee with Colleagues" initiative, how does this program benefit your team, and how do you foster a culture of open communication within your organization?
Fostering a culture of open communication within the Hotel is a fundamental aspect of my leadership approach. I believe that effective communication is the backbone of a thriving hotel environment. This is why I maintain an open-door policy, welcoming team members at all levels to approach me with their ideas, concerns, and feedback. This sets the tone for open communication throughout our establishment.
I have established the "Coffee with Colleagues" initiative to overcome the challenge of staying connected with everyone on the ground, especially in a large hotel with over 700 colleagues. This weekly ritual includes line personnel from all departments, such as stewards, waiters, and housekeepers. It has become a highly anticipated event, with colleagues even seeking suggestions from their teams on what topics to discuss. Additionally, we organize a "Night Owl Breakfast" for overnight colleagues after they have finished their night shift, further enhancing our engagement and ensuring that everyone feels connected and valued. The benefit of these regular gatherings is that they allow me to easily address any issues that may arise.
In addition to face-to-face communication, we provide anonymous channels for colleagues to express their opinions or report concerns, such as a dedicated QR Code online form that goes directly to me. This ensures that individuals who may be hesitant to speak up in person still have a voice.
We also invest in communication training for our staff, including courses on active listening, conflict resolution, and interpersonal skills. This helps our team members communicate effectively with colleagues and guests.
In conclusion, fostering a culture of open communication is a top priority for us at our hotel to ensure that our team members are engaged, motivated, and working cohesively toward our shared goals. This transparent culture ultimately leads to a better guest experience and continued success for our organization.
In your role as the Regional Vice President, you oversee properties across different countries and cultures. How do you adapt your leadership style to effectively manage diverse teams and maintain consistent service standards?
In my role as Regional Vice President, overseeing Four Seasons properties across Saudi Arabia, Kuwait & Qatar, adapting my leadership style is paramount to effectively manage diverse teams while upholding consistent service standards.
Managing diverse teams across countries and cultures requires a balance between consistent service standards and cultural sensitivity. My leadership style revolves around adaptability, effective communication, empowerment, and fostering unity through embracing diversity. This ensures that our properties not only maintain their unique identities but also contribute to a unified, high-performing hospitality brand.
Saudi Arabia has seen a growing interest in tourism. How do you collaborate with local authorities and organizations to promote the country as a tourist destination and contribute to its tourism development?
We understand the increasing interest in tourism in Saudi Arabia and are dedicated to collaborating closely with government entities and other stakeholders to showcase the country's unique offerings.
One of our recent efforts is a partnership with the Saudi Tourism Authority (STA) where we signed a Memorandum of Understanding (MoU) with Munirah Abanomy, Head of Marketing Partnership for Middle East and Africa, to launch joint activation campaigns and design captivating experiences to showcase Saudi Arabia as a top tourism destination worldwide and in the region.
This agreement has been signed with the hopes of attracting tourists from nearby markets and offer a tourism experience that rises to what the Kingdom's guests expect from the leading, globally renowned hospitality brand, "Four Seasons".
With a diverse language background, how do you leverage your language skills to connect with guests from different parts of the world and create a welcoming atmosphere for international travelers?
I am fortunate to have a diverse language background being fluent in German, English, some French, Italian, Spanish and a developing familiarity with the Arabic language, which enables me to establish meaningful connections with guests from all over the world and foster a welcoming and hospitable environment for international travelers. Whether engaging in conversations in their native tongue or ensuring they feel at ease in unfamiliar surroundings, I firmly believe that effective communication stands as the cornerstone for creating enduring guest experiences and key to leaving lasting impressions.
With your extensive background in managing luxury hotels worldwide, what are some unique challenges and rewards you have encountered in each location?
In my extensive journey of overseeing luxury hotels globally, I've encountered an array of distinctive challenges and rewards across each unique location. Yet, one remarkable experience stands out as the most memorable and demanding—the ambitious renovation of an iconic private island nestled in the heart of the Pacific.
The logistics involved in this project were truly unparalleled. As the island was only accessible by helicopter or boat, every material needed for the renovation had to be carefully planned and transported. This presented a significant challenge in terms of sourcing and organizing the necessary resources within the limited transportation options available. Precise timing was crucial, as everything that needed to leave the island had to be coordinated by helicopter or boat. To address this challenge, we had to bring in 200 laborers from the mainland each day and send them home by night, ensuring that the renovation proceeded smoothly within these logistical constraints.
The time constraint further added to the complexity of the project. With just six months to complete the entire renovation, it required meticulous planning, efficient execution, and exceptional teamwork. The pressure was high, and every decision had to be aligned with our objective of delivering the highest standards of luxury.
While the project posed various challenges, the rewards were equally remarkable. Overcoming these logistical hurdles and completing the renovation within the given timeframe was an achievement I am immensely proud of.
The hospitality industry often demands long hours and high levels of dedication. How do you maintain a work-life balance and stay motivated in such a demanding role?
Maintaining a work-life balance and staying motivated in my role as RVP & GM at Four Seasons Hotel Riyadh is a critical aspect of my professional life. It's a demanding position that requires dedication, but it's equally important to ensure personal well-being and motivation.
First and foremost, I prioritize effective time management. I carefully plan my days, setting clear goals and priorities, which helps me optimize my time and ensure I'm focused on what truly matters. Delegation and trust is another key factor. I have an exceptional team, and I trust them to handle various responsibilities. Empowering my team members not only lightens my load but also motivates them to excel in their roles.
Setting clear boundaries between work and personal life is another fundamental aspect. When I'm at work, I'm fully dedicated to my responsibilities, but when I'm off-duty, I make a conscious effort to engage in activities that disconnect and relax me.
Continuous learning is vital in the dynamic hospitality industry. Staying updated on industry trends and engaging in professional development not only enhances my knowledge but also keeps my passion alive.
Celebrating achievements, both big and small, is also an essential part of staying motivated. It provides a sense of accomplishment and reminds me of the positive impact we're making at Four Seasons Hotel Riyadh.
Ultimately, my deep passion for the hospitality industry is a significant source of motivation. I find immense fulfilment in creating exceptional guest experiences and leading a team to deliver outstanding service. This passion drives me to excel in my role while maintaining a healthy work-life balance.
As someone who values diversity and uniqueness, how do you ensure that each Four Seasons property maintains its distinct character while upholding its core values?
Our Brand DNA is what ensures Four Seasons maintains consistency across all properties while distinguishing us from other luxury businesses. It is rooted in the unwavering belief in the "Golden Rule": treating others as you would want to be treated. This principle underpins our commitment to delivering consistent service and hospitality across all our properties, creating a personalized, considerate, and luxurious guest experience that leaves them eager to return.
We also know that a strong culture needs to reflect the diverse people and communities in all the locations in which we operate. Diversity, Inclusion and Belonging is an important part of our ongoing cultural journey. Not only are the principles of diversity, inclusion, and belonging aligned to our core values, but this work also activates the positive, progressive changes happening in the world around us.
When you think about Four Seasons, unparalleled luxury comes to mind. For the brand, true luxury is a meaningful sense of belonging. It is a dedicated focus on how people want to be treated, grounded in the genuine care a guest experiences during their stay and defined by an abundance of humanity and generosity. This starts with passionate teams, welcoming guests to be the centre of Four Seasons world,
anywhere in the world – and always with a distinctly human touch.
Luxury is also time as no one can buy it. What matters are the
experiences within the time we have that's where unique luxury makes exceptional experiences.
As a leader in the hospitality industry, what advice would you give aspiring hotel managers who aim to excel in this field?
The most important advice is to have fun with what you do. You should look forward to the day ahead and enjoy your tasks. Innovate, create, exchange ideas, communicate and share knowledge. You will need to recognize the demands and rewards that come with this industry. Hospitality can be an incredibly fulfilling career, but it requires dedication and the right set of skills to succeed.
In today's hospitality industry, commercial and business acumen, alongside soft skills, have become increasingly important. Aspiring leaders should focus on honing these skills, such as empathy, problem-solving, strong time management, and resilience under pressure, as well as mastering financial analysis to optimize revenue streams and understanding market trends to identify opportunities for expansion. These competencies are essential for providing exceptional experiences to guests, ensuring smooth operations, and making informed decisions that drive profitability.
One skill that also stands out in the hospitality sector is cultural awareness. Hotels cater to guests from all parts of life and the world, so having a high level of cultural understanding is crucial. This includes being knowledgeable about different customs, traditions, and preferences, as it enables hotel managers to create personalized and memorable experiences for their guests.
Lastly, I would encourage aspiring managers to never stop learning and growing. Knowledge brings confidence. The industry is constantly evolving, and staying updated with the latest trends, technologies, and techniques is crucial for success. Continuously seeking opportunities for growth, whether through attending industry events, pursuing professional development courses, or engaging in networking, will help aspiring hotel managers stand out and excel in their careers. As leaders it is our essential responsibility to share, coach and mentor others. Just as we were given the knowledge before, we need to pass it on and guide the way forward.
Interview conducted by Garz Bumanlag
Images courtesy of Four Seasons Hotel Riyadh