LAUNCHING ITS LATEST LIMITED EDITION COFFEE RANGE, VARIATIONS ITALIA WITH A SELECTION OF MUST-HAVE ACCESSORIES
This holiday season, Nespresso is opening its Casa Nespresso doors, arming coffee lovers with an array of appealing gifts for the holidays. A season, dedicated to generosity and indulgence, Nespresso believes there is no better time to bring people together and treat loved ones with the gift of Nespresso. Whether you're writing your own wish list or wanting to surprise your nearest and dearest, Casa Nespresso will be sure to inspire your gifting this season.
To celebrate, Nespresso is launching its Variations Italia Limited Edition coffee range. Inspired by the traditions of Italy, Nespresso's Variations Italia is a homage to true Italian hospitality, celebrating those warm, soft-hearted moments spent with loved ones during the holidays. This year's coffees are influenced by the traditional Italian flavours of regional sweet treats, including hazelnut cake, amaretti and pecan biscotti. With four flavoured coffees, two non-flavoured coffees and a range of accessories, Nespresso's festive coffee offer caters for all this holiday season.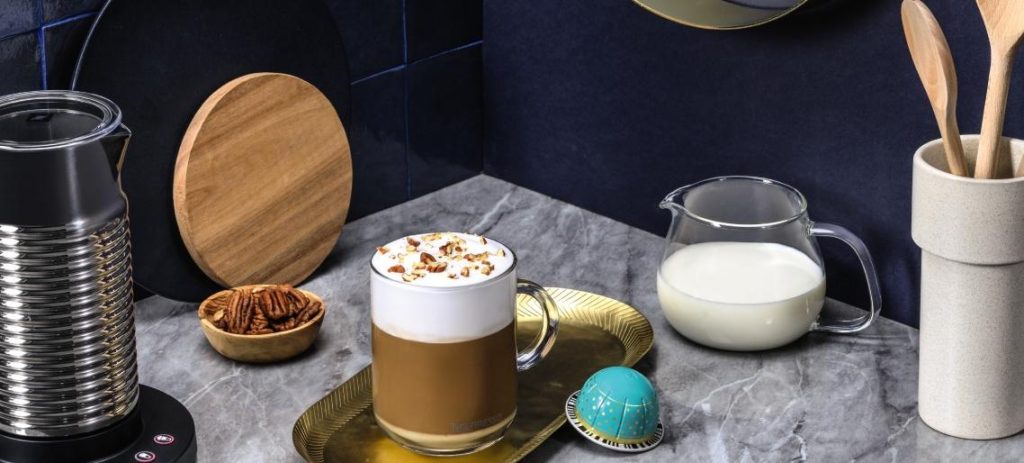 SURPRISE AND DELIGHT YOUR TASTE BUDS WITH NESPRESSO'S VARIATIONS ITALIA COFFEE RANGE
Variations Italia Amaretti  Flavour
Available for Original
Amaretti are traditional Italian biscuits made using ground almonds, egg whites and sugar, giving them their unmistakeable bittersweet taste. Coffee lovers can expect, in this flavoured coffee, almond and vanilla notes layered with South American Arabica's lingering cereal character, giving it a zesty fruit note.
Variations Italia Torta di Nocciole Flavour
Available for Original
Variations Italia Torta Di Nocciole Flavour coffee fills out the South American Arabicas' lasting cereal taste with notes of toasted hazelnut and vanilla. Like coffee and cake, this espresso is a warm and welcoming treat to celebrate the moment together.
Il Caffè
Available for Original
Il Caffè takes you right to the heart of the classic Italian espresso experience. Vietnamese and Indonesian Washed Robustas graced with a little Colombian Arabica hit that punchy combination of smooth, velvety taste and roasty, cereal aromas.
Variations Italia Pecan Biscotti  Flavour
Available for Vertuo
This flavoured coffee is based on the iconic Italian twice-baked "Biscotti", also known as Cantucci, often used for dunking into a cup of coffee. Variations Italia Pecan Biscotti Flavourmarries a velvety texture and nutty notes from Latin American and African Arabicas, creating a smooth cereal taste.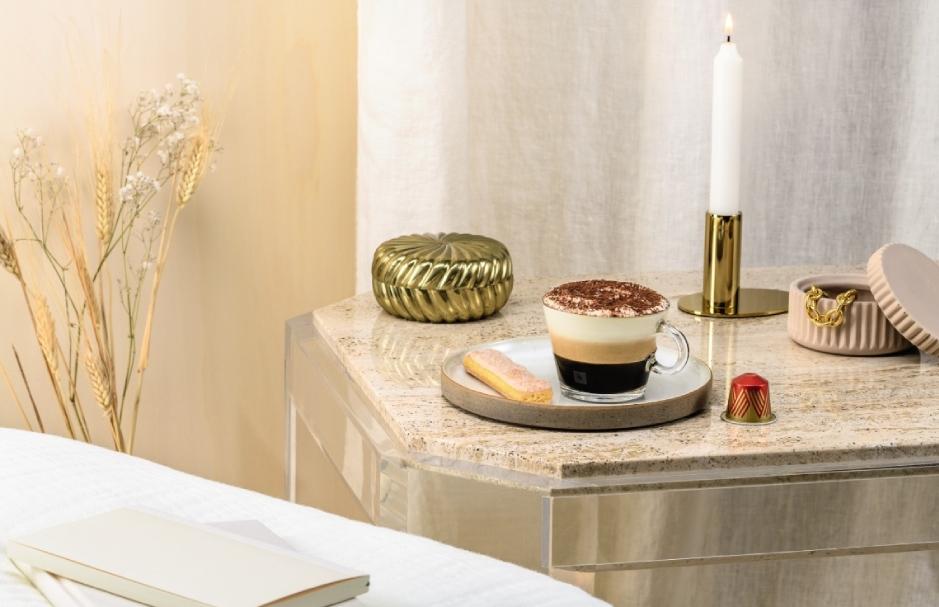 MAKE THOSE NESPRESSO MOMENTS LAST LONGER – DISCOVER NESPRESSO'S LATEST ACCESSORIES
Along with these indulgent coffees, Nespresso has also launched a range of coffee and homeware accessories, that elevate those special coffee moments spent at home and make for delightful gifts this holiday season.
A Festive Coffee Countdown
Give the gift of time with Nespresso's 2020 Variations Italia advent calendar. This coffee countdown allows Nespresso fans to enjoy a Nespresso coffee each day from December 1st to 23rd and a gift on the 24th. Available for both Vertuo and Original, the Nespresso Festive Advent Calendar will be sure to bring excitement to any household ahead of the big day.
Curl up and get cosy with the NespressoLume Collection
Designed by Milanese designer Federica Biasi, the new Lume Collection is a refreshing twist on the traditional white porcelain coffee cup set. Its timeless, organic shape aims to bring a sense of cosiness and warmth, creating a true moment of coffee indulgence.
The word Lume is Italian for light, which is what Federica Biasi aims to portray through this collection. The delicate design and white matte finish creates a touch of luxury making it a perfect gift for any coffee lover.
The permanent collection comes in five sizes, from Espresso (80ml) to Coffee Mug (400ml).
For those looking for a sleek storage solution for their Nespresso capsules, Federica Biasi has also designed an accompanying Lume Mia capsule dispenser, the transparent design creates a luminous sparkle to your capsules, suiting any kitchen counter space.
Celebrate and entertain with Alessi X Nespresso
This year, Nespresso is also proud to have partnered with iconic Italian design brand Alessi, co-creating a limited edition centrepiece for entertaining and sharing meaningful moments with loved ones.
Thoughtfully designed, with an exclusive granulated finish reinterpreting an ancient goldsmithing technique, the Alessi X Nespresso centrepiece bowl has been created for every at-home celebration in mind.
A gift for you, A gift for me
Nespresso is also offering two luxury limited edition gifts that are only available to coffee lovers with select purchases. So, if you're treating someone else, you too can also treat yourself and take something home from the Casa Nespresso.
Holidays on the go with Nespresso's Limited Edition Touch Travel Mug
For coffee lovers who just don't stop, Nespresso Limited Edition Touch Travel Mug is a great companion for any journey, whether it's running for the last train or a long journey to see family for the holidays. This stylish laser engraved travel mug will keep your Nespresso coffee warm and its double insulation means that your hands will stay cool. This limited edition gift is available with purchase.
Relax and unwind with Nespresso's Café Absolu scented candle
For an extra moment of relaxation Nespresso has also collaborated with French perfumer Olivia Giacobetti to create the Café Absolu scented candle. This exclusive candle's aroma is filled with hints of coffee, cocoa, woody notes and lingering vanilla. Its full-bodied and velvety fragrance creates a cosy warming atmosphere. Great for relaxing and unwinding after a busy day of festivities. This limited edition gift is available with purchase.
Explore Casa Nespresso to see the full festive range including machines, and take your gifting ideas to the next level at www.nespresso.com and in Nespresso boutiques.